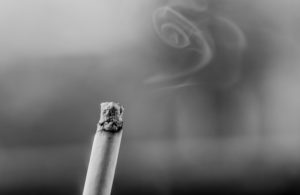 When most people think about the damage done by smoking they first think of lung cancer and other lung diseases. Did you know that smoking can cause a huge number of other problems too? The mouth, being the first place the smoke hits, is one of the areas most damaged by smoking. Let's find out what all happens.
Oral Cancer Risk
About 2/3 of all cases of oral cancer are related to tobacco use. Oral cancer most commonly occurs in the floor of your mouth, the side of your tongue, or in your throat but can occur just about anywhere. Oral cancer can easily spread to the rest of your body as a result of its close proximity to major arteries and the lymph node system in your neck. Stopping smoking reduces this risk significantly and it continues to decrease the longer it has been since you quit.
Highly Increased Risk of Periodontal / Gum Disease
The most common side effect of smoking that I see is a severely increased risk of gum disease. People who smoke have more bone loss, increased build-up of tartar around teeth, and gums that don't heal as well. Long term this can lead to you losing your teeth. The majority of tooth loss isn't related to cavities but to bone loss from gum disease. I had one long term smoker literally bring me a tooth in a bag that had just fallen out on it's own. He was 45 years old.
Poor Healing After Mouth Surgery
Smoking reduces the ability of your immune system to fight infection and decreases the ability of your body to heal. If you have a tooth pulled it will take longer to heal and has a higher risk of getting a dry socket. If you have an implant placed, you have a much higher risk of it failing. If you have gum disease and need surgery, your results won't be as good.
Staining Of Your Teeth and Tongue 
I can always tell when someone is a smoker because of the staining on their tongue and teeth. It can turn the surface of your tongue a white, brown, or even black color that won't come off. Your teeth will usually pick up a dark brown or black staining on any surface that isn't entirely smooth and even sometimes on surfaces that are. Most often this happens right around the gumline. A good professional cleaning can remove some of this stain but won't get rid of all of it.
Bad Breath
Bad breath always comes along with smoking. The smoke and chemicals smell bad in and of themselves but it also makes it easier for bacteria to grow in your mouth, leading to that typical bad breath.
Smoking causes problems in just about every other part of your body as well. These include…
Lung Cancer 
About 90% of cases of lung cancer are related to smoking. The risk decreases significantly after quitting. People who are around you while you smoke also have increased risk of developing lung diseases as well.
Chronic Obstructive Pulmonary Disease (COPD)
Smoking damages the small air sacs in your lungs. Over time this makes it difficult to get enough oxygen to breathe effectively. It starts as bronchitis and progresses to emphysema. Over time this inability to get enough oxygen can cause severe health problems up to and including death. COPD is a leading cause of death in the United States. 80% of these deaths are directly related to smoking.
Heart Disease
Smoking causes your arteries to thicken, leading to higher blood pressure and a variety of other heart conditions. Heart attack risk goes up significantly. The risk of any type of heart disease is increased 2-4 times when you smoke.
Strokes
Smokers tend to develop blood clots at a higher rate than other people. If a blood clot travels to the heart it can cause a heart attack or if it travels to the brain it can cause a stroke. These risks are about 2-4 times higher than in non-smokers.
Diabetes
Smoking is a big contributor to the development of Type II diabetes. Diabetes has its own set of health problems that goes along with it too.
Any Type Of Cancer
Smoking has been connected to just about every other type of cancer. It's been estimated that a full third of all cancer deaths could be avoided if nobody smoked.
Problems During and After Pregnancy
Smoking increases the risk for preterm birth, birth defects, and a baby with a low birth-weight. All of these can cause significant health problems after a baby is born and sometimes for the rest of their life.
Rheumatoid Arthritis
Smoking has also been linked to the development of rheumatoid arthritis.
How To Stop Smoking
Compared to other addictions such as opiate dependence or alcoholism, smoking may not seem like such a big deal. It may not seem as critical to stop because it doesn't cause immediate problems. Almost all of the problems with smoking are found after you've been doing it for a long time. Unfortunately, stopping smoking is also one of the most difficult addictions to stop. It ranks right up there with heroin.
Going cold turkey occasionally works but for most people it is not an effective strategy. There is too much discomfort when you stop and almost everyone goes back to it.
A better way to stop is by slowly decreasing your usage over time. That means if you're smoking 2 packs a day then you should work yourself down to 1 pack then to a half pack and then eventually to none. The day that you stop altogether is still difficult but it is much easier this way than when you go cold turkey.
The last way to stop is with the use of various smoking cessation aids such as gums or patches. This is similar to slowly reducing your usage over time because it gives you a set amount of nicotine each day that slowly decreases with time. The rates of success are much better doing it this way.