Below are my recommendations for the best (and worst) types of over the counter teeth whitening / bleaching products.  If you are interested in faster or more significant results see my page on professional whitening to see if any of those options are a better fit for you.
Teeth whitening is dependent on just a couple of factors.
How much and what type of stain you have on your teeth
Concentration of peroxide
Time the peroxide is contact with your teeth
That's it! The better you can seal the peroxide against your tooth, the better and faster results you will get. Keep that in mind as you look through the following options. Those products that look like they will seal better, will work better.
The Best Teeth Whitening Products
Custom Bleaching Trays (Approximately 2-8 shades lighter)
You will get the best results from at home whitening if you have custom whitening trays made by a dentist or dental lab. The most cost effective solution for custom whitening trays is to use a self impression kit from a dental lab. As long as you take an accurate impression, the custom trays will work great for  you.  Click on the banner below to go to the lab we recommend for making custom bleaching trays.
Buy whitening gel to go along with your custom trays…
If you already have your own custom trays or clear Invisalign style retainers you can just buy whitening gel and use it. Personally, I like buying Opalescence whitening gel from Ultradent (this link will take you to their Amazon store). Many dentists use these same products in their office and you know the product is good quality. Generally it is cheaper to order it online yourself rather than purchasing from your dentist. Concentrations vary based on your sensitivity and how you will use it. I've broken it down into a couple of different types…
Overnight Use – This is a lower concentration formulation than daytime use products. In order to see results it is best to use this overnight. If you can tolerate the 15% you'll get the best results. If you find that are developing significant sensitivity or it seems to be "burning" your gums, you might want to use the 10%.
Opalescence 10% bleaching gel
Opalescence 15% bleaching gel
Daytime Use – This is a much higher concentration product that you can use during the day. I usually recommend wearing them from 30 minutes to an hour each day.
Opalescence 35% bleaching gel
White Strips (Approximately 2-5 shades lighter)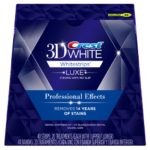 The best brand of white strips is Crest 3D White Professional Effects. All other white strip products work but this one generates the quickest results. I've found that these strips form to your teeth and stay in place better than many other products. Bleaching is all about how long the bleaching / whitening chemical is in contact with your teeth and so the products that seal better generally work faster.
Single use trays (Approximately 2-5 shades lighter)
These are disposable trays that you bite into and leave on for 30 minutes to an hour. You can usually get slightly better results with this over white strips because you get better adaptation of the material to your teeth. The biggest thing they have going for them is that they are super easy to use. If you're willing to put a little more effort in, the other options will give you better results. The product I recommend is Opalescence GO 15%, also by Ultradent.
Kit to Create your own "custom" trays at home (Approximately 2-5 shades lighter)
There are many different options out there for creating your own custom trays. They are all essentially the same. It has material that you can heat up in hot water and mold to your teeth. This will not get the same adaptation that you would get with lab fabricated custom trays, so it will take longer to see results with this method. I recommend the kit below because it is one of the most cost effective kits available. Also, you don't need to use the light while bleaching. It is just a gimmick.
The Worst Teeth Whitening Products!
Whitening Pens
Whitening Pens are a terrible investment. Sure, they contain hydrogen or carbamide peroxide which you can apply to your teeth. Without anything to keep it on your teeth your saliva will wash it away almost immediately.
Gimmicky LED Lights
I've seen a lot of new products that contain LED lights and claim that they get amazing results from the combination of heat and bleaching product. Guess what? These lights don't do what they claim. The amount of heat generated is minimal. I took apart one of these products to see what was inside and it was just your basic LED light that you could buy for a dollar or so from Radio Shack. Don't waste your money!
Homemade Whitening Products
Homemade whitening products can range from ineffective (brushing with baking soda) to damaging (formulations that contain heavy acids such as lemon juice). Acids can literally soften the enamel of your teeth and brushing immediately afterwards can remove the surface layer. You might actually get some whitening as a result of this effect but you really don't want this type of whitening. There are a lot of methods that actually whiten your teeth without damaging your teeth.
Whitening Toothpaste
Whitening toothpaste works by being highly abrasive. This high abrasiveness removes very surface stains better than less abrasive toothpaste. This isn't really true "bleaching" or "whitening". Over time these abrasive toothpastes can be very harsh to your tooth enamel. I'd stay away from any toothpaste that has "whitening" in the title.
Whitening Mouthwash
Whitening mouthwash is another one of these headscratching type products. You literally can't leave mouthwash in your mouth long enough to have any effect at all on your teeth. If the concentrations were enough to actually whiten your teeth it would also burn your gums to shreds. Don't waste your money on mouthwash that claims to whiten your teeth.
Whitening Kiosks in the Mall
They'll usually use some variation on the whitening pens which we've already established don't work very well. They can't do the type of professional whitening that can be accomplished in the dental office. The chemicals used in a dental office setting are very high concentration and dangerous to gum tissue. They've got to be handled carefully and monitored. This is what allows professional whitening to work so much quicker. You're just not going to get this in a mall kiosk.