Veneers are a type of dental restoration in which porcelain is bonded to the front surface of teeth in order to change their color or shape. When most people think of veneers, they think of celebrities who have changed relatively good looking teeth into bright white perfect teeth. While some cases of veneers do absolutely that, I've found that the majority of veneer cases I see are done to fix significant cosmetic issues. Let's take a look at a couple of cases of veneers to see what they can do. Afterwards we'll take a look at what actually goes into creating those veneers and some of the risks and benefits of this process.
Case #1: Yellow and brown staining from fluorosis
Before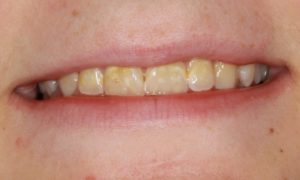 After
Case #2: Significant spacing and staining from antibiotic use as a child
Before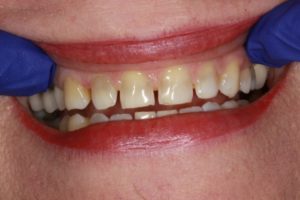 Minimal removal of outer layer of enamel in preparation for veneers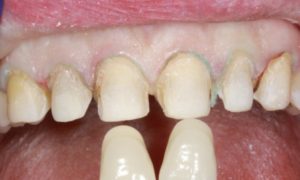 After – This patient wanted a slightly more yellow appearance to match her other teeth.
So now that we've seen what veneers can do, let's take a look at the actual process.
Getting Ready
Your dentist will usually take some photos and impressions of your teeth. The models of your teeth they'll send to a dental lab to have them make a "wax-up" of what they would like the final veneers to look like. They can usually show this to you before you make the final decision to proceed with the veneers.
Preparation of the teeth and impression
At your veneer appointment your dentist will usually numb the teeth and then prepare them for veneers. In some cases, a significant amount of enamel must be removed from the front of the tooth while in other cases little to no enamel must be removed. A lot of this depends on your specific situation. In general, the cosmetic result can be greatly improved by removing at least a small portion of enamel (approximately 0.3 mm). They will take an impression of your prepared teeth and send this to a dental lab to have them make the final porcelain veneers.
Temporary veneers
Most times, your dentist will also place temporary veneers on your teeth as a trial run. This tells the dentist whether the bite is good and also gives you a chance to make sure you like the size and shape of them before the permanent ones are made and put in place. I personally like to have people wear them for 1-2 weeks before we have the dental lab start making the veneers. Once we make any adjustments to size or shape, we can take an impression and send this to the lab and they'll duplicate this in the final porcelain veneers.
Final veneers
Once the final porcelain veneers are ready, your dentist will remove your temporary veneers and bond the porcelain ones in place. Depending on how sensitive your teeth are, they may need to numb you at this appointment as well.
Care and long term outlook
Veneers usually last 10-15 years. At this point your gum tissue will often have receded and you'll see the (usually) stained interface between the veneer and the tooth. Most people like to get them replaced at that point for cosmetic reasons.
Another reason they fail is when they break or come off the tooth. I make a nightguard for all of my patients with veneers. This is a minimal expense that protects your very expensive investment. A nightguard minimizes this risk.
Frequently Asked Questions (FAQ) About Veneers
What are Lumineers? 
Lumineers are a specific brand of veneer created by DenMat. They are marketed as no to minimal preparation veneers. I've personally found that the cosmetic results with Lumineers can be mixed, mostly because people want these veneers without any preparation of their teeth. This limits the ability of the veneer to effectively change the shape and color of the teeth adequately.
What is the difference between a crown and veneer and which is the best option? 
A crown requires preparation of the entire tooth instead of just the front surface as a veneer does. A crown is usually the best option when a tooth is significantly worn or has a large cavity while a veneer is a better option when the tooth is structurally in pretty good shape but needs a cosmetic change.
Can I get a cavity around my veneer? 
Yes, you most definitely can get a cavity around your veneer. In many cases you'll need a new veneer or an entire crown on the tooth to fix this. Follow the usual rules of limiting intake of sugar and brushing and flossing regularly and you'll reduce your risk of this significantly.
Are there any risks to having veneers? 
Every time tooth is drilled on there is a chance that it will irritate the nerve enough for it to need a root canal. This is pretty unusual with veneers, especially those where the teeth are minimally prepared, but it is an important risk to understand.
Can all dentists do veneers? 
Yes, all general dentists are qualified to do veneers. As with everything else in dentistry, some dentists are far more talented at this than others. One of the biggest differences can be in the quality of dental lab used. It takes a very skilled dental technician to make natural looking veneers.
How do I know if my dentist is any good at veneers? 
Most dentists can show you examples of previous work they have done. Ask to see these and ask about their experience doing them. Anyone with decent experience should be able to discuss this freely with you.