Reviews Updated February 25th, 2017
Electric Toothbrushes
As a dentist I really like electric toothbrushes. Electric toothbrushes have been scientifically proven to reduce more plaque than a manual toothbrush and they also have a lot of different features to make your brushing more effective. I've personally tried out just about every brand and use one every day myself.
While most electric toothbrushes are superior to a manual toothbrush, there are some electric toothbrushes that are even better than others. So without anymore ado here are my recommendations for electric toothbrushes…
Best Overall:
The best electric toothbrush in my opinion is the Oral B Pro 500 Smartseries. I personally use the ProfessionalCare SmartSeries with the sensitive brush heads because I've found that it cleans the best of any electric toothbrush I've ever used (and I've used pretty much all of them). In two minutes of brushing my teeth feel just as clean as they do after a professional cleaning.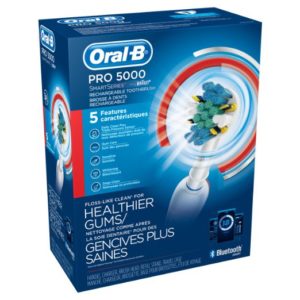 Some of its features include…
A pressure sensor so you don't brush too hard
Interchangeable brush heads (there are 9 different types you can purchase which include Cross Action, Floss Action, Precision Clean, Deep Sweep, Dual Clean, 3D White, Ortho, Powertip, and Sensitive)
Different brushing modes including Daily Clean, Gum Care, Sensitive, Whitening, and Deep Clean
Bluetooth technology to connect to your phone and analyze your brushing habits
A timer to help you brush the full two minutes
Long battery life (lasts approximately 10 days in between charges)
Why is it the best toothbrush?
A 2005 study found that… "Brushes that worked with a rotation oscillation action removed more plaque and reduced gingivitis more effectively than manual brushes in the short and long-term… No other powered brush designs were consistently superior…". Studies since then have backed up this research. Sonic toothbrushes do not work as well as rotation oscillation toothbrushes.
I also have personally seen how well it works compared to all the other options. I simply can't get my teeth as clean with a regular toothbrush as I can with this toothbrush.
Best Mid-Range Option:
For a budget option for my patients I usually recommend the Oral B Vitality. Again, it doesn't clean as well the more expensive options but will generally do a much better job for you than a manual toothbrush.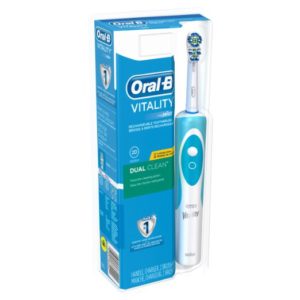 Some of the benefits of the Oral B Vitality include…
Interchangeable brush heads (you can use all the same brush heads as any other Oral B electric toothbrush)
Rechargeable
Very affordable
Budget Option:
If you're not sure if you, or whoever you're buying it for will actually use it, consider buying a cheap one before springing for an expensive one. I have a link below for the Arm and Hamer Spinbrush. It does a decent job cleaning. Remember that you still have to change the brush heads every three months.
Brush Heads
There are a lot of different brush head options for the Oral B Toothbrush. You want to change the brush heads on your toothbrush every three months, just like you'd change out your regular toothbrush.
Best Clean:
For the best possible cleaning ability go for the Oral B Cross Action brush head. Another overall good option is the Floss Action Head. I find these brush heads to be a bit too aggressive for me because I have unusually sensitive teeth and gums. Most people really like how well these clean though.
Sensitive Gums:
If you have really sensitive gums or teeth you may like the Precision Clean or Sensitive Brush Heads better. The Precision clean is a bit softer than the Cross Action brush heads while the Sensitive one has the softest bristles available. I personally use the sensitive brush heads and I'm still able to get a really good clean.
Braces:
If you're in braces you're going to need to use a couple of different brush heads to really clean those braces effectively. You'll want to start with the Ortho brush head which fits around the brackets used in braces. Once you've cleaned really well with the Ortho head you can use the Power Tip to clean in those harder to reach places. It is small and gets into all the nooks and crannies around the brackets, wires, and other hardware used for braces.
Bridges or Other Tight Spaces You Need To Clean Around
Another good use for the Powertip is if you have bridges or implants that need better cleaning than you can get with a regular brush head.
Oral B does have some other brush heads that look more like a regular toothbrush but I don't like these as much. The round head really cleans better than any other design. Unless you just really love the other types and can't brush without them, I'd stick to these specific brush heads.
Manual Toothbrushes
Regular:
Manual toothbrushes can be hard to recommend mostly because everyone has different preferences. That said, I have literally tried hundreds of different toothbrushes and my favorite out of all of these, BY FAR, is the Colgate SlimSoft Toothbrush. It is the softest toothbrush I've ever tried and cleans very well because the thin bristles are able to reach into nooks and crannies better. They can be difficult to find and there are some fake products on Amazon so make sure and read the reviews and buy a legitimate one from Colgate.
Eco-Friendly:
If you are looking for a more eco-friendly toothbrush, the Preserve toothbrushes are made from recycled plastic and can themselves be recycled.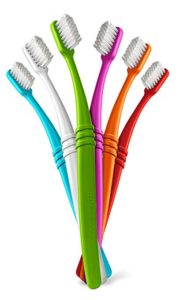 Here are some other things you need to know about toothbrushes and brushing with a manual toothbrush…
Buy one with soft bristles. They reduce the risk of damaging your gums and teeth. All the toothbrushes I've recommended above have soft bristles.
Kids need smaller toothbrushes than adults. It makes it easier for them to brush their back teeth.
Toothbrushes need to be replaced every three months because they get dirty and worn out.
You should brush twice a day for at least 2 minutes each time. This provides the best benefits for your teeth and gums.