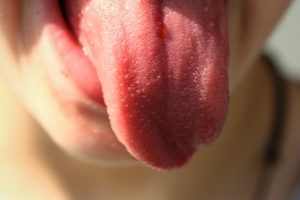 I've seen a lot of patients over the years who have had tongue rings. Without fail, they all had one thing in common… chipped and broken teeth. Let that sink in for a moment. Chipped and broken teeth on pretty much all of them. The second thing they all had in common… They wish they hadn't gotten a tongue ring!
Chipped and broken teeth happen because the tongue whips the tongue ring around with the force of a wrecking ball. Your tongue moves every single time you swallow, speak, or chew food. Every single one of these movements, all day long, has the potential to cause significant damage to your teeth. Your teeth can only take so much trauma before they break. The teeth that are most often damaged are the bottom front teeth. These teeth are some of the most difficult for a dentist to fix because they are the smallest teeth in the mouth. Bonding on these teeth struggles to stay in place and crowns are also very challenging to do without breaking the teeth or hurting the nerve of the tooth.
If you've got a tongue ring, I'd highly recommend removing it and never putting it back in. Lip rings, multiple-earrings, nose rings… totally OK from a dental perspective. Tongue rings, not so much.
If you're considering getting a tongue ring, please just don't do it! They just aren't worth the potential damage to your teeth.