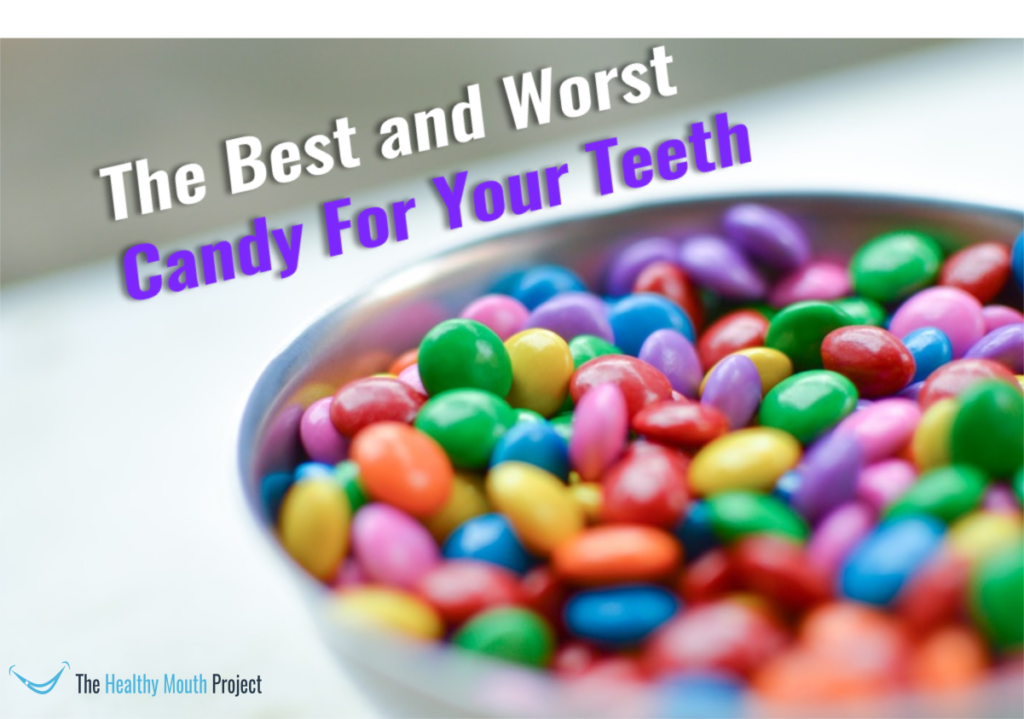 With Halloween coming up, it's time for the annual roundup of the best and worst candy options for your teeth!
Even though I'm a dentist, I really like candy too! The key with candy is being smart about it. By that I mean you should choose healthier candy options and eat them in moderation. Cavities form when teeth are exposed to sugar and acids for long periods of time.  You can either limit or eliminate the sugar or you can limit the amount of time your teeth are in contact with them. There are some really great sugar free options available nowadays that taste almost exactly the same. There is also nothing wrong with eating candy with sugar occasionally. Eat it all at once, once or twice a day at most and you'll be fine!
Without further ado, here is everything you need to know!
Cream of the Candy
If you're going to eat candy, these are your best options. The very best ones can even protect you from cavities.
Xylitol sweetened candies (My #1 recommendation)
Xylitol is a low calorie alternative sweetener that helps protect against cavities. The bacteria in your mouth that feed on sugar can't metabolize xylitol and it actually keeps them from growing effectively. A study that looked at people who chewed xylitol sweetened gum after every meal showed an amazing reduction in cavities. For optimal effects you want about 5 grams of xylitol consumed slowly over the day. Gums and hard candies are best because they slowly release it.
*Don't binge on xylitol sweetened candy though because in high doses it can cause some gastrointestinal problems. Any more than 10 or so candies in a single sitting will likely give you diarrhea.*
The absolute best xylitol candy I've found is produced by Dr. John's Candies.  I have tried just about every product that they have and I've been really impressed. I really couldn't tell the difference between it and regular sugar candy. Not sure what you'll like? I really like their variety mix which has a little bit of everything (lollipops, hard candies, caramels, and taffy). The lollipops and hard candy have 2 grams of xylitol per serving while the caramels and taffy have 1 gram each.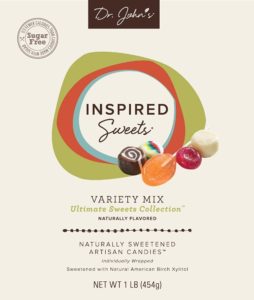 For gum and mints I really like the flavor of Epic Dental products. The flavor is great and they'll save you money on dental care if you use them frequently.
One last warning. Xylitol is highly toxic to dogs. Keep this and chocolate out of their reach.
Sugar free candy and gum
Chewing sugar free gum and candy can actually have a protective effect against cavities. Gum helps clean your teeth as well as stimulate more saliva which is good for preventing cavities. Other sugar free candies also help create more saliva. If you're getting a sugar free candy that doesn't have xylitol, you should consider finding one made with stevia. It is the most natural (non-chemical) artificial sweetener currently available.
Also be careful of other sugar free candies that contain sugar alcohols as they can have the same laxative effect as xylitol has. Check out some of the Amazon reviews about these sugar free gummy bears. These gummy bears are made with maltitol (another sugar alcohol) and have occasionally been used as a really bad prank! The reviews are also some of the most creative and memorable reviews you'll find about anything on Amazon.
Dark chocolate
Dark chocolate is not only amazingly delicious but also has a lot of health benefits! There is some evidence that eating dark chocolate can protect you from heart disease. It does have sugar so don't go snacking on it all day long but as a once or twice a day treat, it is great! Chocolate also tends to dissolve in your mouth far more quickly than other candies that are sticky. You really don't want sugar sticking in the grooves of your teeth and staying there all day long. A good dark chocolate should have about 70-80% Cacao. Avoid Hershey's "Dark Chocolate" because it has far less Cacao and far more sugar and fat.
My personal favorite is Trader Joes 72% Dark Chocolate but there are a lot of other good options out there too.
Munch In Moderation
Eating these candies may not be the greatest thing for you, but in moderation aren't likely to cause many problems.
Straight sugar candy
In this category you've got things like Pixie sticks and Smarties. Yes it is sugar but it doesn't stick around too long in your mouth.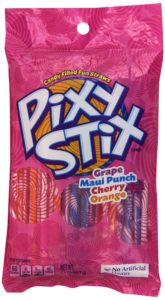 Regular chocolate
Regular chocolate such as M&M's or Regular Hershey's Bars don't have as many of the health benefits of dark chocolate and usually have more sugar. It does melt in your mouth quickly so it doesn't stick around too long.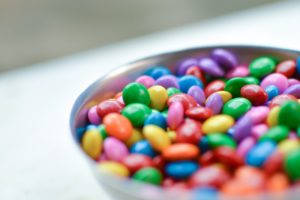 Downright Dangerous
Sour candies
Sour Patch Kids, Sour Gummy Worms, Lemon Drops, Atomic Warheads and anything similar have a lot of sugar as well as significant amounts of acid. The combination of acid and sugar is deadly to your teeth. The enamel of your teeth starts breaking down under a pH of 5.5. If you're sucking an acidic candies for any length of time, you're exposing your teeth to a really dangerous environment.
Sticky or gummy candies 
Sticky and gummy candy has a tendency to get stuck in the grooves of your teeth and stay there all day long. Brushing will usually get it out but even then some pieces are often still left. Bacteria feed on this sugar, creating acid and breaking down the enamel of your teeth. The super sticky ones also have a tendency to pull out crowns or loose fillings.
Some of the worst offenders? Airheads, Sugar Daddies, Tootsie Rolls, and Laffy Taffy.
People don't usually realize that dried fruits fall in this category too. They have a ton of sugar and are super sticky. They stick in the grooves of your teeth just the same as other sticky candies.
Hard candies
There is a reason why Jawbreakers are called Jawbreakers. Sure they don't usually break your jaw but they do tend to break your teeth at an abnormally high rate. Teeth can take a lot of abuse but aren't really a match for hard candy. Even if you can control yourself and don't crunch down on them, you still have to suck on these candies for long periods of time, exposing your teeth to sugar for a far longer period than they should be.
Lollipops
Lollipops are meant to be kept in your mouth for long periods of time. This constant exposure to sugar is really bad for your teeth. I still remember one little girl I saw years ago. Her mom called her "The Lollipop Queen". By the time she came to see me at age 7, she had cavities on just about every tooth in her mouth.