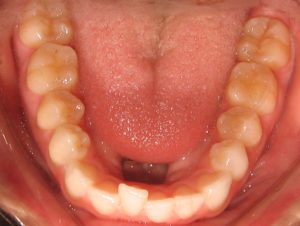 The natural position that your teeth want to move towards is a result of the complex interaction between your tongue, cheeks, muscles, ligaments around your teeth, and forces from other teeth. Light, constant forces on your teeth will tend to cause them to move toward the position where all the forces are equal. Many people have braces when they are younger and think that once the teeth are all straight, they'll just stay that way. If only it was so! Those same forces that caused the teeth to end up where they were in the first place, usually are still there and will tend to want to push the teeth back into those same positions. This is why your orthodontist or dentist recommends wearing a retainer for the rest of your life.
Teeth also have a tendency to want to drift forwards / towards the middle. The dental term for this is called "mesial drift". The most common places you'll see this are on back molars that are missing a tooth in front of them as well as your front, bottom teeth. Back molars will fall forwards into any space that is there. They never fall backwards. Your front bottom teeth tend to get crowded before anything else. Most orthodontists will bond a small wire around the back of those front bottom teeth to keep them from getting crowded again. This is called a lingual bar retainer.
So what can you do to keep your teeth from getting more crowded?
If your teeth are significantly crowded, you'll need braces or Invisalign to straighten them.
Some mild cases of crowding can be resolved with something easier like a retainer with activated springs. This is only something that can be done by your dentist or orthodontist.
If you've got a retainer, wear it consistently. Most people should wear it every night. After you've been wearing it for several years
If you don't have a retainer, consider getting your dentist, orthodontist, or an online dental lab to make one for you.
Some people have a very active tongue that pushes forward on the front teeth and causes a space to open up between them. This is called a tongue thrust. Certain types of exercises can help you reduce this or sometimes you'll need help from an orthodontist or speech pathologist.
Avoid any types of habits that are putting force on your teeth. This can include consistent sucking on fingers or anything else. Some people like to hold objects in between their teeth which can damage or move them.