As a dentist, do you know what the biggest complaint I hear about snoring appliances is?
That they are bulky, uncomfortable, and difficult to get used to! For a dental appliance that is supposed to help you sleep better, they can be awfully hard to sleep with! A lot of people stop wearing them because they can't get past this part. Even the best appliances are useless if you can't wear them. I thought about this for a long time and came up with a custom solution that not only was smaller and more comfortable, but affordable as well! For comparison here are some of the main types of snoring appliances you'll see out there as compared to my appliance…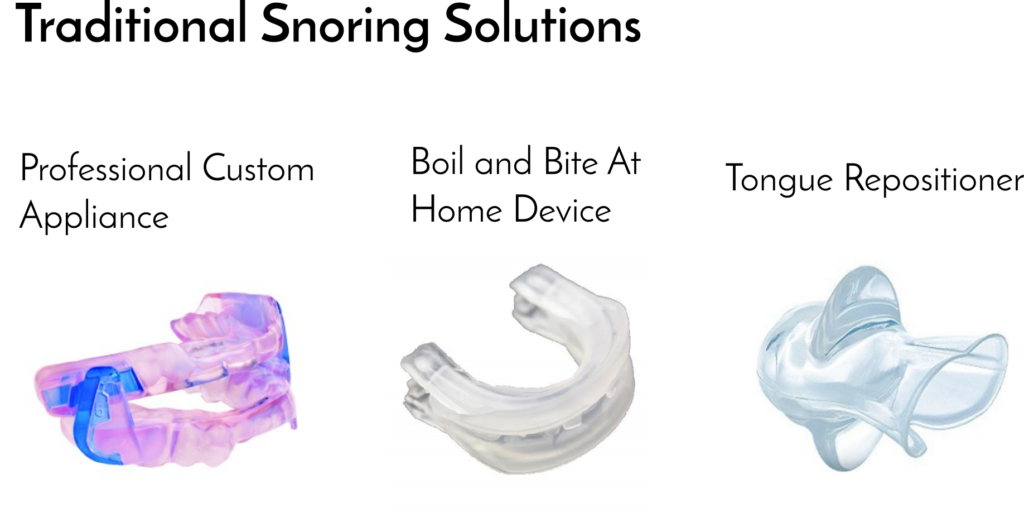 Why should you take my word about snoring appliances?
A while back, I started snoring and was keeping my wife up at night. I can easily and cheaply make any snoring appliance that is out there. Guess what I wear? My custom at home appliance that I'll show you how to make in my snoring guide! Out of all the options, I've found it to be the best for me. It keeps me from snoring and is comfortable.
In addition to my personal experience with the snoring appliance, I've also been treating patients for snoring and sleep apnea with these types devices for years in my private dental practice.  Recent studies have shown that designs very similar to the one I'll show you how to make are highly effective in reducing snoring when adjusted properly, which I'll show you how to do.
My snoring guide includes…
Step by step instructions on creating a custom snoring appliance and how to adjust it correctly
Exercises, postures, and myofunctional therapy tips to help reduce your snoring long term
Access to our general forums as well as a private forum about snoring appliances
Anyone who can follow simple directions and pictures, can easily make this type of appliance at home with the help of my guide.
100% Satisfaction Guarantee
I'm so confident in my guide that I offer a 100% satisfaction guarantee. If after you get a chance to go through all of my snoring guide, you're either not a candidate for this type of appliance or not entirely satisfied, I'll refund your money, no questions asked.
Don't let an uncomfortable appliance keep you from getting better sleep. Learn how how you make a small, comfortable, and effective snoring appliance easily at home.
For a limited time you can purchase access to this guide for only $19.99.

 *Packages do not include the cost of supplies needed for fabrication of the appliances. Supply costs are an additional $25-50, depending on where you purchase them, what you already have on hand, and what type of appliance you'll need to make.
**This guide should not be used if you have any of the following conditions…
Missing too many back teeth for the appliance to fit
Nasal obstruction that causes snoring – This won't be effective
Sleep apnea
Chronic TMJ pain
Loose teeth or severe periodontal disease
Abscessed teeth
Currently undergoing orthodontic treatment
Respiratory diseases such as chronic obstructive pulmonary disease or emphysema
See your dentist or physician for other treatment options.