Snap On Smile is a really interesting new appliance in dentistry. It is a relatively inexpensive solution for a large number of cosmetic problems. I'll go over everything you need to know about Snap On Smile so that you can make an informed decision about whether or not Snap on Smile is right for you.
There are two different ways you can have a Snap On Smile Made.
At Your Dentist. Your dentist will take impressions of your teeth and go over picking the right tooth shape and shade. They'll send this to a dental lab who will make the Snap on Smile. The process usually takes about a month before you'll get it back. Most dentists charge somewhere between $1500 – $3000 per arch.
Direct Through A Dental Lab. Several dental labs offer the ability to get a Snap on Smile directly through them. In these cases they'll provide a self impression kit for you to take a mold of your teeth at home. You'll send this mold to them and they'll create the Snap on Smile for you. The benefit to this way is that the price is significantly less than what you'll find at your dentist. The downside is that if you have problems with it, you won't have anyone to adjust it for you. If you do go this route, I'd highly recommend having a check-up at your dentist to make sure you don't have any gum disease or active cavities. Either of these can cause problems long term with your Snap On Smile. You'll also need to take an extremely accurate impression of your teeth which can be a bit challenging the first time you do it. The lab I recommend has a guide on self impressions and you can also check out my guide on self impressions here. Doing it direct will usually cost  you about 1/2 of what you'd pay at the dentist.
If you do go direct, I recommend using Brighter Image Dental Lab. They have a lot of experience in making Snap On Smile's direct for patients.
What Conditions Are Best Treated With A Snap On Smile?
There are a lot of different cosmetic conditions that this appliance can treat. It is actually the most versatile appliance cosmetically of anything I have available as a dentist. Some of the main things it is good for include…
Missing teeth (No more than 2 teeth in the back with no teeth behind them or more than 4 teeth in a row if you have teeth in front and behind the space)
Heavily stained teeth
Spaces
Crowded teeth
Small teeth
Worn teeth
This graphic is from DenMat (the company that creates the Snap on Smile Product) and shows a couple before and after pictures of people that were treated with a Snap On Smile. As you can see, you can get a really nice result!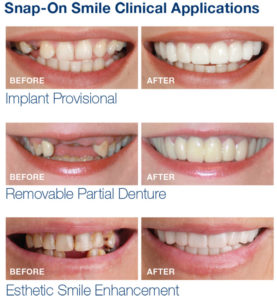 Don't Use Snap On Smile In The Following Situations…
Just like everything else, Snap on Smile, isn't great for every situation. Some people aren't a good candidate for it and it can actually cause permanent damage. If any of the following describe you, you shouldn't pursue this appliance unless the issue is corrected first.
Moderate to severe gum disease with loose teeth
Teeth that are flared forward significantly
Too many teeth missing (see above)
Severe underbites
You have no teeth and/or wear dentures
Also I'd highly recommend using Snap On Smile with caution if you have a lot of cavities and would like to use it cover them up. While this will provide a nice cosmetic result over top of your teeth, underneath the cavities will continue to develop. As soon as one of these teeth break your Snap On Smile will become an expensive paperweight.  Get those cavities treated before doing something like this.
What Is The Process Like For Getting A Snap On Smile Made?
The first step (either direct or at your dentist) is taking impressions of your teeth, selecting the correct tooth shape, and selecting a shade for your teeth. The impressions should be as accurate as possible to get the best possible result. Once all this is completed, everything is sent to the dental lab who will create your Snap On Smile. The process of creating it takes about a month from start to finish. Once it comes back from the lab, you should be able to just pop it in place over your teeth and you're all done!
Benefits to A Snap On Smile
Quickly change your entire smile
Very inexpensive compared to veneers or braces
Looks better than a partial denture with metal clasps
Downsides to Using A Snap On Smile
Initially you may have some problems speaking correctly until your tongue gets used to having it in place
You may have problems with food getting caught around or under it
Cosmetic results aren't as good as more expensive options such as veneers or braces
If you have dental work done such as large fillings or crowns, it may no longer fit
Common Questions About Snap On Smile
Can you eat with a Snap On Smile in place?
Yes you can eat with the Snap on Smile in place. I'd caution against eating anything super hard with it in place though. This would include nuts, hard candies, and chewing on ice.
How long does a Snap On Smile last?
This can be difficult to answer without knowing the specific design of your Snap on Smile. Most labs have a two year warranty on breakage. With good care of it, and no major changes in your mouth, you can expect it to last about five years. Snap on Smiles with large areas of teeth to replace will have a tendency to break more quickly than those that don't replace teeth.
Does a Snap On Smile get stained easily?
No, the material used to create the Snap On Smile is stain resistant. Some people who build up stain quickly will get some staining on them depending on their specific diet.
How do you clean a Snap On Smile?
You should brush it with soap and water. I don't recommend using toothpaste as it can scratch and dull the surface and make it pick up more stains.