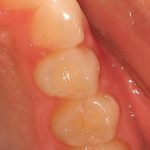 One of the common questions I get asked is why do some people get sensitivity after having fillings. Sensitivity after fillings can be very frustrating and challenging. Many times you didn't have any problems with the tooth before the fillings and now the dentist went and messed with it and it hurts! He or she must have done something wrong, right? Not always Let's take a look at some of the different factors that go into sensitivity.
Sensitivity in the first several days to weeks after a filling is done is oftentimes a result of the drilling done on the tooth. When a tooth is drilled on it causes a reversible inflammation in the nerve which makes the tooth sensitive. When the inflammation settles down the sensitivity usually goes away. For some people this period of time is extremely short and other people it can take weeks and weeks. Generally, larger cavities tend to have more sensitivity than smaller cavities.
Teeth filled with amalgam (metal) fillings can develop some sensitivity as a result of the metal conducting temperature through them. This metal conducts changes in temperature far more quickly than your natural tooth enamel.
Your bite is high. If your bite is high it also causes that reversible inflammation of the nerve which can lead to sensitivity. Usually an adjustment of your bite by the dentist will solve the problem within a couple of days.
Bonding systems for white fillings are extremely complex. Even with perfect techniques some of the older systems still cause some sensitivity as a result of the chemical bonding process. There are steps dentists can take today to reduce this.
Bond failure of white fillings. In rare causes the bond of the filling material to the tooth doesn't set up quite right. This can be a result of moisture getting onto the tooth surface during the process, oil contamination, and old or defective bonding agents. This happens to every dentist at some point even with the best techniques. If the dentist removes the filling and places a temporary filling material the sensitivity resolves and then a new filling can be placed.
If the sensitivity is severe (pain that starts on it's own and is bad enough to wake you up at night) it can mean that the nerve is in the process of dying and needs a root canal.
Cracked tooth. In rare cases a tooth can crack shortly after the the filling process through no fault of the dentist. This generally leads to sensitivity as well as sharp pain when biting.
So what do I recommend doing when you have sensitivity after fillings?
If your bite feels high, go back to the dentist for a bite adjustment. This will not go away on it's own.
If the pain is severe, go see the dentist. Severe pain isn't normal after fillings.
Otherwise, give it some time. Everyone heals at different rates and oftentimes your teeth just need some time to settle down.