Replacement retainers (initial retainers right after braces should be done by the orthodontist) are one of the major things thing that you can save money on by skipping the dentist or orthodontist. Several companies will sell you a self-impression  kit and can make you a retainer at discount over what you would be charged at the dentist. Click on the ad below to go to the website for the company I recommend for this service.
So which type of retainer should you choose? There are multiple types to choose from. The first are "fixed" retainers that are bonded to your teeth. These can only be done by a dentist or orthodontist. They are very difficult to keep clean but you don't have to worry about losing them or forgetting to wear them.
The second type are removable appliances. Again there are a couple of different types here. A hawley style retainer has a piece of acrylic that covers the roof of your mouth and several wires that extend around your teeth for retention of the retainer and to keep the teeth in place. These are generally the most durable long term option. Unless you break them or lose them, they can last for years and years.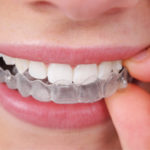 Another type are known as essix retainers. These are similar to Invisalign style trays in that they are made of a hard clear plastic material that fits right over your teeth. They look better than hawley retainers (no metal wire around the front teeth) but generally aren't very durable. They tend to wear out anywhere from a year to a couple years later.
With retainers you also need to be familiar with how often you should wear them. If you don't follow the correct schedule you risk your teeth shifting around. Every dentist or orthodontist has a slightly different schedule they like to follow but you can't go wrong with the following…
First 6 months – All the time
The following 2 years – Every night
The next two years – Wear at night 3-4 times a week
After that wear it once a week at night.