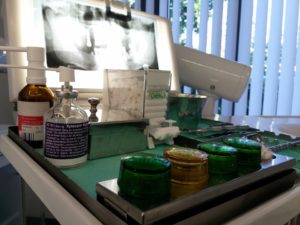 It's very common today that wisdom teeth are taken out before they have come in or caused any problems. Ever wondered why this is?
Most people don't have room in their mouth for them. Contrary to popular belief they don't cause any crowding of your other teeth but they do have a tendency to come in half-way or in the wrong direction. Wisdom teeth that come in correctly are far more rare than wisdom teeth that have problems.
If they push against the teeth in front of them in the wrong way, you can develop a cavity on both teeth and need to have them both removed. You usually don't know this is going to happen until it is already too far progressed to do anything about. This is a very common problem when wisdom teeth are tipped forward about 45 degrees.
One of the more common problems that happens with wisdom teeth is known as pericoronitis. Food gets trapped in the gum tissue around the tooth and causes an infection. This is an extremely common occurrence with wisdom teeth that aren't in quite all the way. It can cause quite a bit of pain and continue happening over and over again until the wisdom teeth are removed.
I see a lot of cavities form on wisdom teeth. Cavities form because it is nearly impossible to keep these teeth clean. These cavities usually are very difficult for your dentist to fix effectively due to their location.
Wisdom teeth that are in all the way and causing no problems still don't provide any extra chewing function. Even second molars (the teeth in front of the wisdom teeth) don't provide a whole lot of extra function (only about 5%).
Gum disease leading to bone loss around the back side of your second molars is also pretty common. This is another consequence of not being able to keep the area clean.
Recovery from wisdom tooth removal is much easier at age 17-18 than at 30. The bone around your wisdom teeth becomes denser with age and makes it more challenging and traumatic to remove the teeth later in life (in general). You also have the time to recover from wisdom tooth removal at a young age rather than when you are older and have more responsibilities with a job, family, kids, etc.
Impacted wisdom teeth sometimes form a cyst around them. If this cyst gets large enough it can jaw problems. This is a rare complication but can cause significant problems if it occurs.