Before I get into the recommendations I want to explain a couple of things about mouthwash. Mouthwash can be a good companion for strengthening your teeth or helping bad breath but brushing and flossing always need to come first. You need the mechanical removal of bacteria that both provide. You won't be able to fix bad breath with just mouthwash. There are also a lot of different types of mouthwash. Here are a couple of the major differences…
With or without Fluoride – Fluoride is great for reducing the likelihood of getting cavities. Brushing and flossing is sufficient for most people (if done regularly!), but if you like to make sure you are doing everything you can, this is an easy way to help.
With or without Alcohol – Alcohol gives mouthwash that burning sensation that some people love and others hate. It also helps dissolve essential oils that provide the actual antibacterial effect. There have been some concerns that the alcohol in mouthwash could lead to an increased risk of oral cancer, however, there has been NO convincing evidence to date that this happens. There is some concern however, that alcohol can dry your mouth temporarily.
Dry Mouth Rinses – A variety of conditions or medications can lead to dry mouth. Ask your physician or dentist if you are concerned. Using a dry mouth mouthrinse and a fluoride mouthrinse (or one that includes both) IS VITAL in cases of dry mouth. Dry mouth can lead to a multitude of problems including cavities, bad breath, and thrush. Certain rinses contain helpful ingredients and enzymes to counteract these effects.
Alcohol Free Mouthwash with fluoride
My favorite alcohol free mouthwash with fluoride is Listerine Total Care Zero. A second option is Act Anticavity Mouthrinse. Both rinses help reduce cavities (through the action of the fluoride) and kill germs that cause bad breath. For most people that want to use a mouthwash, this is the type of mouthwash that is the best.
Alcohol Free Mouthwash without fluoride
Listerine Zero is an alcohol free mouthwash for helping with bad breath. It works well. There is another brand of alcohol free mouthwash called Crest Pro-Health. I do not recommend the Pro-Health mouthwash. It has issues with staining the teeth.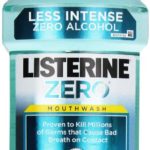 Alcohol Mouthwash with Fluoride
Listerine Total Care helps to prevent cavities and the germs that lead to bad breath. If you like that burn of alcohol and want to get the protective effects of fluoride as well this is a great option.
Alcohol Mouthwash without fluoride
These mouthwashes are great for bad breath but won't do anything to strengthen your teeth. Listerine makes the best products in this category.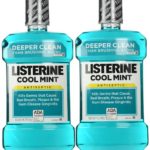 Dry Mouth
Dry mouth can be very challenging and lead to many dental issues. Using a good mouth rinse is one way to help reduce some of these problems. One option is Biotene. This contains enzymes that help stimulate saliva production in the mouth.
Another option is Act Total Care Dry Soothing Mouthrinse. What I like about this one is that it contains fluoride which helps to strengthen your teeth and repair damage that has been done from having dry mouth.

For Kids
Children's mouthwash should have fluoride in it, which is critical for children when their teeth first come in. Children should never use an alcohol containing mouthwash. You should also be careful to watch that they don't swallow the mouthrinse.