Did you know that it is actually very common for people to be missing permanent adult teeth? Estimates are that about 20 % of people are missing at least one tooth. The majority of these are wisdom teeth but there are also some other teeth that are commonly missing as well. I'll go over what teeth are commonly missing and what your options are long term.
Commonly Missing Teeth
Wisdom Teeth 
Wisdom teeth are the most commonly missing teeth making up about three quarters of all teeth that are missing. They don't replace any baby teeth and most people don't even realize they're missing them.
Second Premolars
Second premolars are the second most commonly missing teeth, only behind wisdom teeth. The second premolar teeth normally come in around age 12 and replace the furthest back baby molar teeth. This x-ray is actually of my son from a couple of years back. He is missing his second premolar teeth.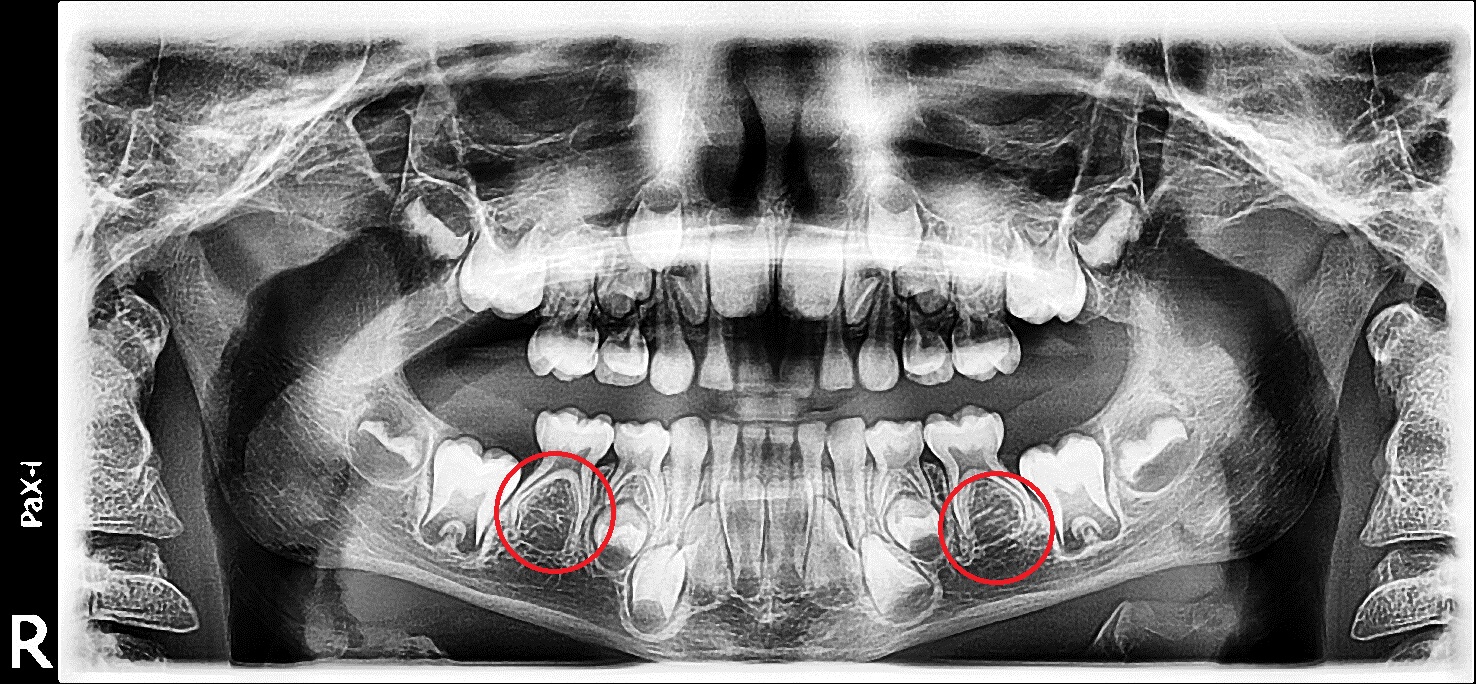 Lateral Incisors
Upper lateral incisors are the third most commonly missing teeth. Lateral incisors are the teeth right next to your two front teeth. Approximately 2% of people are missing these teeth. Missing lateral incisors pose the most significant challenges for replacement.
Other Teeth
Any other tooth can be missing but we don't see them nearly as often as the ones previously discussed. I see children missing either lateral incisors or second premolars at least once a month. I see other missing teeth far less frequently.
Oligodontia
In rare cases, some people are missing more than six teeth. This is a condition known as oligodontia. It is often associated with a genetic mutation.
How Missing Teeth Are Treated
The treatment for missing teeth depends quite a bit on which teeth you are missing as well as other factors including crowding, spacing, age, the amount of bone available, and your finances. Treatment for missing teeth can be a time consuming and in depth process!
Wisdom Teeth
No treatment is needed for missing wisdom teeth. In fact, you should count yourself lucky if you don't have them! In most cases, we take them out anyway because there isn't enough room for them.
Lateral incisors 
As I mentioned before, missing lateral incisors are one of the more challenging missing teeth to treat. The baby lateral incisors tend to be lost pretty early on, whether from the teeth on either side coming and helping push them out or them becoming loose as a result of being such a small tooth. Unlike second premolars, holding onto these baby teeth isn't a great long term option. This picture is a good example of what happens if you let the baby teeth fall out and don't do anything with the space. You end up with a space that is too small to do anything with.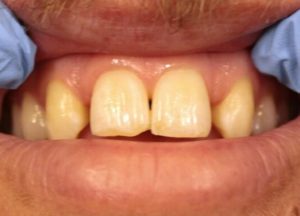 For most kids, once the baby lateral incisors are lost, the space is held open either by a removable or permanent appliance until they are old enough for an implant (around age 18). A removable appliance can come in the form of either a flipper or retainer with a tooth attached to it. The most common permanent appliance is known as a Maryland Bridge. A Maryland bridge has a fake tooth with small "wings" that are cemented onto the teeth on either side.
An implant for a lateral incisor can be challenging as well. Because no teeth formed in that location there is typically far less bone in the area than normal. Sometimes a very small implant can be used and in other cases an oral surgeon will need to add bone in the area (bone grafting) in order to make enough space for an implant.
Before implants became a good option, many orthodontists would move the canine teeth into the space and then shave down the canines to look like lateral incisors. I personally don't like this option because it tends to not look great and cause a  good deal of damage to the canine teeth. Canine teeth are quite large and reshaping them enough to make them look like a lateral incisor runs the risk of creating a situation in which it needs a root canal.
Another option that was previously used quite a bit was a bridge. The biggest downside to a bridge is that you have to cut down the teeth on either side of the missing tooth. An implant is almost always a better solution.
Second Premolars
There are several different ways to approach missing second premolars.
For children with significant crowding of their permanent teeth, the primary baby molars are removed, and an orthodontist uses this extra space to align all the teeth properly.
For children who don't need to have them removed, we usually leave the baby teeth in place and maintain them as long as possible. As long as cavities don't develop on them and the roots remain intact, they can last an additional 30-40 years.
When the baby teeth are eventually lost an implant is the best option to replace it. Alternatives to implants include a bridge or a removable partial denture, especially if you are missing any additional teeth at that point.
Oligodontia
In cases where quite a few teeth are missing, treatment can be complex and challenging. It usually requires good coordination between a pediatric dentist, prosthodontist, and an oral surgeon. Make sure you've got a good team to help you deal with this.