There are a lot of different products out there that claim to whiten your teeth with almost no effort whatsoever. Do any of them actually work and if so, how well?
Do Whitening Pens Work? – No
Whitening pens contain a peroxide solution that you apply to your teeth. A lot them claim that they can whiten your teeth or maintain your current level of whiteness if you've already whitened. These are a total waste of money. The two important things for whitening are the concentration of the peroxide solution and how much time it is in contact with your teeth. Without something to hold the peroxide solution next to your tooth your saliva will very quickly dilute the solution and wash it away. Just putting something in your mouth that tastes funny will increase your saliva flow. This has the effect of washing it away even faster. Don't waste your money on whitening pens.
Do Whitening Lights Work? – Not At All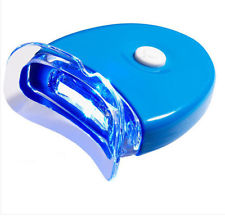 I've seen a lot of ads recently for whitening lights that claim to be able to significantly whiten your teeth in just 20 minutes a day. They say to just put it in your mouth, turn the light on, and wait. They claim great results with no chemicals, sensitivity, or discomfort. Sounds too good to be true right? That's because it is.
Most of the products look exactly like this picture. This is a $2 LED light made in China. I've taken them apart to check what exactly is inside. It is literally a battery attached to a small LED light. LED lights don't have any special properties that can whiten your teeth. All it is is a marketing gimmick. They take your money and hope you don't ask for it back.
The only thing today that is proven to whiten your teeth are the different peroxide solutions (carbamide peroxide or hydrogen peroxide) applied to your teeth with strips or trays.
Some products will package whitening gels with these lights. Does this increase the effectiveness of the actual whitening products? Again, there is no evidence that a bright LED does anything to increase the effectiveness. Even those dental ZOOM lights you see in offices don't actually do anything. They're just another marketing gimmick. The best you can hope for with these lights is for them to dehydrate your tooth from the heat of the light which makes them temporarily look slightly lighter. As soon as your teeth have had a chance to rehydrate from your saliva they'll go back to look exactly the same.
Do Whitening Toothpastes Work? – Minimally
Whitening toothpastes work by abrasion (think sandpaper). They remove any surface stains on your teeth but can't penetrate deeply into the tooth to remove any of that stain. This works a little bit if you have surface stain but you generally don't get very noticeable results.
You also run the risk of causing damage to your enamel over time. It is so abrasive that you can wear away your enamel and especially your root surface if it is exposed. This can lead to abfractions.
Do Whitening Mouthrinses Work? – Nope
Another whitening product with claims of a "whiter smile in 5 days". Does it work? As usual with these novelty products, no it doesn't. It has hydrogen peroxide as one of it's ingredients. The manufacturers of these products seem to believe that just by including it you'll get some whitening effect. As we've discussed before it is all about concentration and time. You don't get a good concentration in the mouthrinses and you definitely don't get enough time. Most people can't rinse for more than about two minutes at a time. Even with high concentration peroxides you need at least 20-30 minutes of tooth contact to get noticeable results.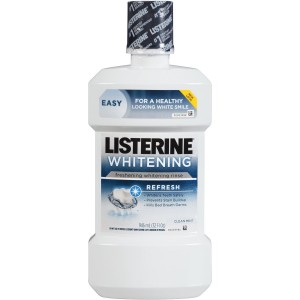 Whitening Gum Products – Minimal effect
This is another one of those marketing ploys. If you're going to chew gum you might as well get some whitening out of it too right? Bad news though. You're not going to see much effect if any from these whitening gums. Sure it might remove some very superficial food off your teeth but overall you're going to see a very minimal effect if any at all.
Electric Toothbrushes With A Whitening Feature – Minimal
The Sonicare DiamondClean electric toothbrush claims to have a whitening mode that will remove stains and lead to whiter teeth. As with other methods that claim to remove stains on teeth for a whiter smile, you're going to see a very minimal effect if any at all. If your stains are so heavy that they make your teeth significantly darker you're going to need a professional polishing at the dentist to get those stains off.
What about all those before and after pictures?
All those before and after pictures are either photoshopped or the person bleached with professional products. The results they show definitely aren't a result of the products that are being sold.
I pay extra special attention to any ad for whitening that I see online. Just last night I saw an ad where the before pictures had heavily stained teeth and the after pictures had veneers on the teeth! They weren't even the same shape anymore.
I've seen other pictures where the teeth aren't the same teeth or the whitening results are so obviously photoshoppped that you can see where they modified the picture. Don't believe everything you see online, especially if the claims seem too good to be true.
So What Does Work?
Professional treatments work great as well as a variety of over the counter whitening trays, disposable products, and white strips. Read our page on the different whitening options to find out what is best for you.