Updated March 11th, 2017
A dental implant is a titanium screw that is placed in the bone to replace missing teeth and are the best option for most people for replacing missing teeth. Dental implants are probably one of the most exciting developments in dentistry over the last several decades. Success rates with dental implants are in the high 90's making them more successful than most other types of dental treatment. Dental implants can be used to attach single teeth, bridges, or dentures. So let's take a look at the procedure for a dental implant…
The Surgery
The dentist or surgeon first evaluates the area to make sure that an implant will work. Sometimes a 3D CT scan is completed for accurate planning. If a tooth needs to be extracted first, they will do that and place some bone grafting material where the tooth came out in order to maintain the bone in that area. This area is usually allowed to heal for several months so that bone can fill in the area. If there was no tooth to be extracted, the surgeon can simply proceed with the implant placement.
During implant placement the surgeon drills a hole in the bone slightly smaller than the implant which it is inserted into. The tissue is closed over the implant and allowed to heal for 3-6 months depending on the area. Once the bone has healed around the implant, it is finally ready to put a tooth on it. Your dentist takes several impressions of the implant and a dental lab creates several pieces that will screw into the implant and hold the crown in place.
There are some situations where this surgery goes a bit differently.
If the sinus is in the way, a sinus lift is needed to make room for where the implant will go.
If the implant can be inserted securely sometimes a temporary tooth can be placed on the implant immediately. This ends up being especially helpful for front teeth.
Dentures can also be attached immediately if the implants have been placed securely.
Restoring An Implant With A Crown
This is a picture of an actual implant ready for an impression to make the permanent tooth.
This is what the cross section in the bone looks like where an implant has been placed. As you can see the implant replaces the root of the missing tooth.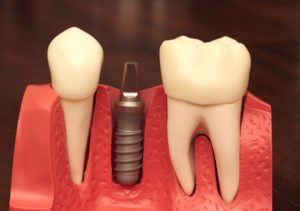 The part on top of the implant that sticks out above the gum tissue is known as the abutment. This is what the crown will be attached to.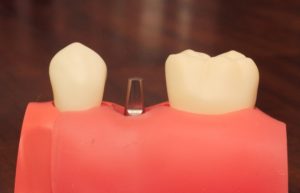 Here we have a crown in place over the abutment. The tooth can function like a normal tooth again.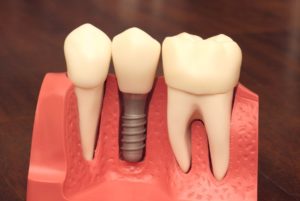 Benefits to a Dental Implant Instead of a Bridge or Partial Denture
They function just about as well as a regular tooth. A well done implant should feel like a normal tooth to you.
They are fixed in place. You basically just have to take care of them like a regular tooth.
It is one tooth solution to a one tooth problem. You don't have to compromise other teeth to make them work like you would with a bridge or partial denture.
Downsides to Dental Implants
Cost and Time – One of the biggest downsides to dental implants at this point is the cost and time involved in making them work. It can take typically anywhere from 3 months to a year to complete the process.
Having to go through a surgery – The surgery itself is usually pretty minor and heals quickly.
Financial. They end up up costing anywhere from $2000-$5000 per implant when everything is said and done.
How to Take Care of Your Dental Implants
You'll want to brush and floss your implant just like the rest of your teeth. Implants can develop infections around them just like your other teeth can leading to loss of the implant. Good oral hygiene and avoiding smoking will minimize this risk.
Don't pick at the gum tissue around your implant. This can introduce bacteria around the implant leading to an infection.
Keep up with regular dental visits. It is important that your dentist check the implant at each visit in order to catch any problems early.
Consider investing in a Waterpik Dental Flosser. A Waterpik cleans off plaque around your teeth and implants far better than any other option including floss or interproximal brushes. A Waterpik has also been proven to be safe for use with dental implants.
Use a low abrasiveness toothpaste. See our list here. Highly abrasive toothpastes can scratch the surface of the implant and cause it to build up plaque more quickly.
Use a rubber tip stimulator on the gum tissue around the implant. This helps build a special type of tissue around the implant known as keratinized tissue. The presence of the this type of tissue is critical for maintaining a good seal around the implant and avoiding infection.
Most Common Complications of Dental Implants
Infection around the implant. If caught early your dentist or surgeon can clean this out and often save the implant. If let go too long, the bone can be destroyed all around the implant and you'll end up losing it.
The screw inside the implant can break or loosen. If you start to notice the tooth moving at all, contact your dentist for them to evaluate and see what needs to be done. If the screw is loose they can usually just tighten it up again. A broken screw is a bit more difficult to fix.