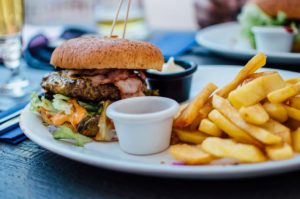 Many people resign themselves to the fact that they will always develop cavities and that there is nothing they can do about it. Contrary to popular belief, cavities are almost entirely preventable. Even if you are genetically predisposed  to cavities, your parents lost their teeth young, or you feel like you're a lost cause already, you can change change things and never develop a new cavity again. I'm going to give you an easy to follow plan to make sure you never have to hear the dentist say, "You've got a cavity!" again.
 It's All About the Diet
You know how in real estate they always say "Location, location, location"? Well in dentistry it is all about "diet, diet, diet". If you get read nothing else here, please read this section as it will make the biggest difference for you.
Quick story before we get into the specifics… I just saw a new patient in my practice the other day. He'd been living abroad in Shanghai, China for nearly 7 years and had moved back to the United States about a year and a half ago. When he came in, I found several new small cavities. He was quite surprised because he hadn't had a cavity in quite a while. The last time he had a cavity was when he was still living in the USA. As I do with most patients who have cavities I asked him the question, "Has anything in your diet changed lately?". His answer? "Well I started eating American food again."
Ding, ding, ding…
The western diet, made popular here in the USA and promulgated around the globe, is a major reason why many people today develop cavities. A major component of many meals in the western diet are refined carbohydrates and sugar of many varieties. Both of these break down into sugar in your mouth that bacteria feed on and use to create acid that breaks down your teeth.
You know what else is really common in the western diet? Soda, sweetened drinks, and fruit juice. All of these are terrible for your teeth. Almost all of them contain sugar and the ones that don't are highly acidic (Diet soda, I'm looking at you!).
So what do you need to do? Many people will say cut out the sugars entirely. I don't think that approach is entirely effective because it is SO difficult to do. My goal for people is to limit how often they consume these sugars and acidic drinks. The best way to do this is to limit anything with sugar, carbohydrates, or excess acid to mealtimes. That means no snacking or grazing on them throughout the day.
I love snacking as much as much as everyone else but unless you get this under control everything else you do will be in vain. If you remember a single thing, remember this… It's not about how MUCH sugar or acid containing items you have but how OFTEN you consume these items. Try to reduce how often you have them and you'll see much better results with cavities.
Action Plan:
Only eat or drink things with sugar or acids at mealtimes.
Snack on healthy foods like vegetables or at least something that doesn't contain sugar or acid.
Drink plain water the rest of the day.
Oral Hygiene
In a close second after your diet, is hygiene. If the sugars, acids, and bacteria aren't in contact in with your teeth, they can't do damage to them. The entire goal of oral hygiene is to eliminate all of these common sources of cavities.
When I ask most people how often they brush they usually tell me that they think they brush really well, at least once or twice a day. Really well for most people is about 30 seconds of brushing. OK, first mistake right there. You can't adequately brush your teeth in 30 seconds. You really need two solid minutes of good brushing with a manual toothbrush to get good results. An electric toothbrush can speed up this process a bit but I'd still recommend sticking to the two minute rule.
One last thing. If you're not flossing you're missing 40% of the surfaces of your teeth.Your toothbrush just can't reach into those areas in between your teeth. Only floss, a waterpik, or interproximal brushes can clean these areas out. I can't tell you how many patients I see who say, "I've  been getting food stuck in this one area" and then when I take a look they have developed a cavity there.
So here's a great example of this. (I got it from a patient of mine who used to each kids about oral health) … Imagine you're holding your hand up with your fingers together. Now go ahead and dip your hand in chocolate pudding. YUM! With your fingers still together you wipe all the pudding off your hands. Think this cleans up all the pudding? No way! Now take a piece of yarn and thread it through your fingers. Guess what you'll find? Lots more pudding. This is the same with your teeth. You've got to clean out in between your teeth or you'll never get it all cleaned up.
Action Plan:
Brush twice a day for two minutes each
Floss, use a waterpik, or use interproximal brushes at least once a day.
Fluoride
Fluoride is one of the main weapons that dentistry uses to combat cavities. It has been known for a long time that fluoride interacts with teeth in order to create stronger enamel and rebuild areas of enamel that have been damaged by acid attack. The fluoride literally helps build stronger and better crystal structures within the enamel.
Now I'm not a huge fan of fluoride in the water supply because of it's likely effect on child development and fluorosis. For adults, however, this fluoride likely isn't harmful and may actually be helpful for the health of your teeth.
I am, however, a big proponent of fluoride containing topical products for your teeth (fluoride rinses, toothpaste, varnishes, etc). The more contact with fluoride your teeth get, the more protection they will get with cavities.
If you're highly prone to getting cavities I'd highly recommend you ask your dentist about a prescription strength fluoride toothpaste. My personal favorite is Prevident 5000 but there are a lot of other options out there. Prescription strength fluoride toothpastes can significantly reduce your risk of cavities. If you'd like more information about high fluoride toothpastes I've got a whole article devoted to that topic here.
Another thing you can ask your dentist about is using a dental varnish every time you see them. This is an extremely high concentration fluoride product that is painted on your teeth. It comes in a very sticky base so that it sticks directly to your teeth and stays there until you brush it off. Ideally you want to leave it on for at least 6 hours so that your tooth has time to take up the extra fluoride and use it to create a stronger tooth structure.
One last source of fluoride is from a mouthwash. There are mouth rinses that contain fluoride from quite a few companies. The major ones are from Listerine and Act. We've got a whole section on mouthwash reviews that contains my recommendations for different types of mouth rinses. The big trick with this is that you have to use it at least 30 minutes before or after brushing, otherwise it isn't terribly effective.
Action Plan:
Get additional sources of fluoride in your routine.
Ask your dentist about prescription strength fluoride toothpaste and routine use of varnish.
Use a fluoride containing mouth wash 30 minutes before or after brushing.
Xylitol
One of the newer oral health products on the scene is Xylitol. Xylitol is what is known as a sugar alcohol. It can be used as a sweetener but isn't technically a sugar as it can't be broken down the same way as regular sugar or high fructose corn syrup can.
So why is Xylitol exciting? Xylitol sweetens products quite effectively but has far less calories and can't be used by the bacteria in your mouth to create cavities. In fact, it actually keeps the bacteria in your mouth from attaching to your teeth. If the bacteria can't attach to your teeth then they can't cause major damage to them.
There have been several studies done of school age children who have chewed xylitol sweetened gum. They were compared to cihldren who didn't chew xylitol gum at all. The children with the xylitol gum experienced significant drops in the amount of cavities that occurred vs the group that didn't chew xylitol gum.
There are a good number of companies who supply GREAT xylitol products now.
Candy: Dr. Johns Candy (it tastes like real candy!!!) I ordered a sampler pack of these products and couldn't tell a difference at all between regular candy and this one. The biggest problem with this one is that it ends up being quite a bit more expensive than regular candy up front. Now if this candy keeps you from getting even one cavity, it might end up  being a huge bargain over regular sugar flavored candy.
Mints and Gum: Epic Dental and Spry. Their mints and gum are second to none. The biggest challenge with these is that the flavor just doesn't last very long. Mostly this is because the xylitol just doesn't stick around very long. If you remember that it is saving your teeth for the rest of your life then it all becomes worth it. Run out of flavor? Chew another stick or pop another mint? It'll help keep you from getting cavities long term.
Action Plan:
Order some xylitol gum or mints
Make sure you get exposure to at least 5 grams of xylitol a day.
Chew Any Gum
Maybe you can't find any xylitol based gum or don't like the taste of it…
Good news! The simple action of chewing gum is actually protective against cavities (even if it isn't as much as xylitol sweetened gum). Chewing gum stimulates your mouth to produce extra saliva which is highly protective against cavities. Saliva contains minerals and enzymes that fight against cavities. It does everything from washing away sugars, to fighting bad bacteria in your mouth, to strengthening your teeth to fight back better against cavities.
Just chewing (sugar free) gum on a regular basis decreases your risk of cavities significantly. Want to start at an easy spot? This is the one!
Action Plan:
Chew gum, whether sweetened with xylitol or not.
Breaking Bad Habits
You may say, well that's all well and good but how in the world am I supposed to break all these bad habits? Don't worry! We've got you covered here too.
Ever heard of Pavlov's experiments? Anyone who has studied psychology is well aware of this. Pavlov wanted to figure out what makes humans and animals tick. Why they do what they do. He studied the concepts of positive and negative reinforcement of certain behaviors. In one study he rang a bell every time a dog would be fed. When dogs know they are going to be fed they start to product a lot of excess saliva and drool all over the place. Eventually the dogs started creating saliva anytime a bell was rung, whether or not they received food.
A lot of this same psychology works on humans. You can pair certain behaviors with something else (either positive or negative) just by doing it at the same time as a behavior.
So here's the really interesting part. Want to stop a bad habit? You've got to pair it with something unpleasant. One guy hired someone to slap him every time he got off track on his work. His productivity, it went through the roof!
So do you need to hire someone to slap you whenever you eat sugar? NO!  Fortunately we've got some great tech out there that can take the place of this person. A really great tool to help you out with this process is known as Pavlok (named after the famous creator of these experiments). It uses a wristband that will shock you whenever you push it. You can also set up certain triggers that will make it shock you such as using it as an alarm, when you use Facebook too much, or when you raise your hand up to your face.
Want to buy a Pavlok? Click here for a link to Pavlok on Amazon.com.
Action Plan:
Figure out how to associate bad behaviors such as constant snacking with something negative.
Consider buying a Pavlok to help you create better habits.
So there you have it. A guide that tells you exactly what you need to do in order to NEVER get a cavity again. Does it take some work? Absolutely! Most good things in life require at least a bit of work. In my opinion, these action items can be easily implemented for most people given a bit of hard work and willpower.