I'm going to give you my honest thoughts on homepathic dentistry. I stand to gain or lose nothing from telling you this. I simply feel strongly that people seeing a homepathic dentist should be aware of the issues. I'm very much against people being misled and taken advantage of.
Homepathic dentistry, also known as "holistic dentistry", "biological dentistry", or "biocompatible dentistry" is a type of dentistry that philosophically claims to be concerned with your dental health as it relates to your overall health. In practice it usually means opposition to amalgam fillings, opposition to fluoride in any form, opposition to surgical gum therapy, ozone treatments, opposition to root canals, and limiting exposure to any dental materials with "toxins" in them.
Homepathic dentistry is big business. These dentists often charge several times what mainstream dentists charge because they market and believe they are providing a superior service. In reality they are often providing unnecessary and ineffective treatments at a premium price. Current evidence based dentistry has debunked many (but not all) of the claims holistic dentists make. As you can probably piece together from all this, I believe most holistic dentists are either liars or quacks.
Many of these dentists and the people that go see them believe mainstream dentistry has an on-going conspiracy to mask any evidence of harm from traditional dentistry. The truth is that most dentists have no financial incentive to mask harm. If everyone practiced dentistry the way holistic dentists did, there would be a lot more work removing and replacing amalgam fillings, complications from those removals, and a steep increase in cost.  The only financial incentive is for holistic dentists to peddle these claims.
Let's take a look at some of the major issues…
Amalgam fillings
Opposition to amalgam/mercury fillings is an almost universal belief of holistic dentists. They believe that the mercury in amalgam fillings is slowly leaked into the body causing a whole host of health problems. They claim that by removing these amalgam fillings, you can cure your fibromyalgia, headaches, etc. Here's the problem… study after study has shown amalgam fillings to be effective and safe long term. This is one of the most studied topics in dentistry and no study has shown any type of harm from amalgam fillings. Any improvements in other health problems after removing amalgam fillings is likely related to the placebo effect (you think something will be better, so it actually gets better).
I wrote a whole other blog post specifically on this topic. Check it out for more information.
My favorite part about the whole thing is that they literally wear suits and gas masks while removing amalgam fillings for fear of exposure. I believe that this is all theater to justify their exorbitant prices. They actually look similar to this…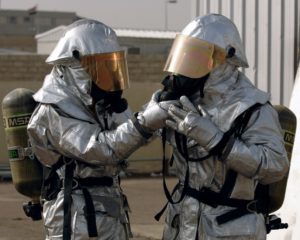 Fluoride
Opposition to fluoride is the other pillar of holistic dentistry. They believe that fluoride, in any form, should be avoided. This includes tap water and in your toothpaste. They claim that fluoride, like amalgam fillings, causes a whole myriad of systemic health problems including brain development issues. So what is the truth?
Fluoride is actually a naturally occurring mineral. It is found in many natural water sources and is found in trace amounts in your saliva. It plays a very important role in remineralizing and strengthening your teeth. The natural water sources were actually how it's important role in tooth development were discovered.
This may surprise you but this is probably my one area of partial agreement with holistic dentists. Studies have shown that fluoride in drinking water can lead to substantial decreases in IQ in children. Systemic exposure to fluoride can have neurotoxic effects on developing brains. High levels of fluoride are also associated with a condition known as fluorosis in which brown spots develop on the teeth. Unsurprisingly, higher levels of fluorosis are also linked with lower IQ scores.
What do we do then? This is where I differ with the holistic dentist. More important than fluoride in your water source, is the topical application of fluoride by using toothpaste. Because it is a topical application and then spit out, you get almost no exposure to the rest of your body. This is why many dentists recommend brushing for two minutes a day. You want your teeth to have time to take up the fluoride.
So my conclusions on fluoride… I think it should be taken out of the water supply but more emphasis should be placed on fluoride toothpaste use and topical application of fluoride varnishes, etc at routine dental visits. It has a place in dentistry but I don't think the current known risks justify leaving it in the water supply.
Root canals
Many holistic dentists also don't believe in doing root canals. They claim that this seals dangerous bacteria in the area that can travel to other parts of the body and cause problems. Instead they just take the teeth out and place "biocompatible" implants, which are coincidentally far more expensive. Here's the thing with bacteria in your body. They're everywhere in trace (and not so trace) amounts. Your immune system usually keeps them in check. No evidence has linked root canals with any type of systemic health condition. Missing teeth on the other hand are linked to certain types of malnutrition and long term health problems. Even if there was a small risk, I believe that the benefits of root canals far outweigh any small risk.
BPA in white "composite" fillings
BPA is an ingredient present in many plastics that has been shown to cause estrogen type effects in high concentrations. The good news? Exposure to BPA from white fillings has been studied and has been shown to be 1% or less of your total daily exposure to BPA. This is insignificant in the overall picture. I'd be much more concerned about other types of BPA sources such as canned goods, plastic bottles, etc.
Ozone therapy
Now this is one of those really "quack" treatments promoted by holistic dentists. They claim that ozone can be flowed into cavities and diseased pockets around your teeth to clean and heal the area. They claim it works by undergoing a super-oxidative burst. The problem? Studies have consistently shown no benefit from ozone therapy. You know what has been shown to promote healing? Traditional dental approaches to treating gum disease such as scaling and root planing, antibiotic placement, periodontal surgery, and laser therapies.
OK. Big takeaways… Be careful if a holistic dentist tells you that you need all your amalgam fillings replaced. Use fluoride toothpaste. Avoiding fluoridated water in children may be wise. Root canals are safe. Don't be that worried about BPA in white fillings. Ozone therapy is ineffective. Go to a regular dentist and get good care so that you aren't scammed by a "holistic" dentist!