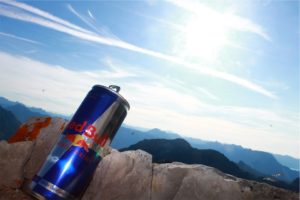 Energy drinks have really taken off in the last five years. They are marketed heavily and are consumed by many people to get a quick pick me up during the day. Some of the most common brands include Red Bull, Rockstar, 5 Hour Energy, and Monster. What a lot of people don't know about them is that they have really terrible effects on your teeth. I've personally seen a lot of my patients develop cavities after starting to drink energy drinks regularly.
Why are energy drinks so bad for your teeth?
They are highly acidic. In fact they are some of the most acidic drinks out there due to their high concentration of citric acid. Studies have shown that they cause enamel breakdown on your teeth more quickly than just about any other kind of drink. Acidic drinks don't just cause damage to your teeth when you first drink them. The acid lowers the pH in your mouth for 20-30 minutes at a time during which the enamel is broken down. Taking sips of an energy drink over the course of several hours is even worse because this keeps your mouth acidic all day long which quickly leads to cavities.
They usually have a lot of added sugar. We all know that sugar is a huge factor in developing cavities. Constant consumption of energy drinks keeps that sugar sitting on your teeth.
What do I recommend for my patients who drink energy drinks?
If you're able to stop taking them, this is the best choice. If you need caffeine to keep you going consider taking a caffeine supplement instead.
Don't brush immediately after drinking them. You want to wait at least 30 minutes minimum before brushing as the acid makes the enamel softer and you can cause additional damage by brushing.
Rinse your mouth with water after drinking energy drinks. This will help to start returning your mouth's pH to a healthy level.
Brush regularly with a fluoride toothpaste and use a fluoride containing mouthwash. This will help remineralize some of the damage done to your teeth by the energy drink.