There is a pretty common misconception out there that when your wisdom teeth start to come in the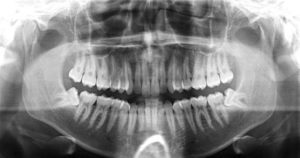 y push your other teeth forward leading to crowding of your front teeth. Many dentists and oral surgeons believed this for years and recommended removing your wisdom teeth to protect against this. Quite a few long term studies were done (over as long as a 25 year period) and have proved that this is a myth.
The reason why people believe this is because there is another process going on that does cause your teeth to crowd in the front. This effect is known as "mesial drift". Mesial drift is the phenomenon of your teeth moving forward slowly over your lifetime. Mesial drift occurs both with and without wisdom teeth. In fact, it occurs even when there aren't any back teeth present at all. I see a lot of adult patients who complain that their teeth have progressively gotten more crowded as they get older. This happens to almost everyone unless they wear a retainer consistently.
Does this mean you shouldn't get your wisdom teeth out? No! In fact, there are a lot of other good reasons to get your wisdom teeth out but crowding is not one of them. These reasons include…
Difficulty in keeping them clean because of their location. This usually leads to decay.
Irritation or infection of the gum tissue around them.
Resorption of the roots of the teeth in front them.
Loss of bone around the teeth in front of them.
Higher risk of cysts or growths around them