Before we can talk about how safe dental x-rays are, we need to know what types of x-rays dentists take. I've included the average radiation dose with each one (this varies based on the type of equipment used). Check at the bottom of this page for what these dosages actually mean in comparison to other sources of radiation.  In general, dental x-rays today cause far less radiation exposure than they used to. This is a result of most dentists changing over to digital x-rays rather than film x-rays. Digital is able to pick up the necessary information with much less radiation. This can reduce radiation exposure up to 80% over film x-rays.
Bitewings (5-10 μSv)- These x-rays are usually taken once a year and help your dentist check for cavities in between your teeth before they get too large.
Panoramic X-Rays (16 μSv)- These x-rays are usually taken once every 3-5 years and help see a more big picture view. It also helps check for cancers / growths of the jawbone and tooth development for children.
Full mouth series (20-40 μSv) – This is a set of approximately 18-20 individual x-rays that show several different perspectives of each tooth, from the tip of the root, all the way up to the crown. These are also usually taken once every 3-5 years.
Lateral Cephalometric (16 μSv) – This type of x-ray is usually taken before braces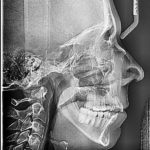 3D Conebeam CT Scan (15-1000 μSv)- The most common use for these is in implant dentistry where the 3D scan can be used to precisely plan where the implant will go without damage to other structures. As the dosages have decreased, these scans have started to be used more often for wisdom teeth, root canals, and orthodontics.
Radiation dosage greatly depends on the type of scanner as well as the field of view used by the dentist or surgeon. Generally, dentists try to limit the exposure on these as much as possible to reduce radiation exposure. I spoke with an orthodontist just the other day who has helped developed a scanner with a total dosage of 20 μSv for the entire scan they need!
I find the following chart to be very helpful in understanding how much radiation you receive from dental x-rays as compared to other sources. The big thing to understand with the chart is that it is a logarithmic chart, meaning that a doubling on the chart is actually a 10 fold difference. Here are some of the high points…
A set of dental x-rays is around 5 μSv
A day of background exposure from the sun is around 10 μSv (as in every single day you get twice the amount of radiation exposure that you get once a year from the dentist)
A flight from New York to LA is around 40 μSv
A medical chest x-ray is around 100 μSv
A medical CT scan is around 10,000 μSv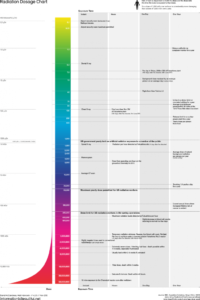 Full chart at Informationisbeautiful.net
As you can see, there are a lot of things in everyday life that cause you significantly more radiation exposure than routine dental x-rays. While no amount of radiation is necessarily safe, the benefit of early diagnosis of cavities, periodontal disease, and oral cancer far outweighs the minimal risk from the generally small amount of radiation. These levels of radiation are reduced to almost nothing for the rest of your body when a lead apron / shield is used. My feeling is that the risk of long term danger from dental x-rays is about the same chance as getting hit by lightning or bit by a shark. Scary things if they actually happen, but extremely unlikely!