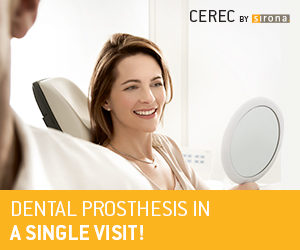 Many dentists now advertise that they can do your crown in a single visit. They've probably got a poster or banner that looks like this one. CEREC is the brand name of the first system that allowed dentists to do this. CEREC is still the leader in the industry but there are a lot more options that dentists may use nowadays. Let's take a look at the pros and cons of doing things this way.
First, we've got to understand the traditional way a crown is done. Before digital impression technology came about this is how crowns were always made. The dentist prepares your tooth for the crown, takes an impression of the prepared tooth, and makes a temporary crown to go on your tooth for about two weeks while the dental lab makes your permanent crown. At the second visit several weeks later, they take off the temporary crown, try on the permanent crown, and then cement it on if everything fits well. Many dentists still use this exact method. Some dentists will use this same method but instead of using those impressions with the goop, they'll take a digital impression of your tooth and send that off to the dental lab instead. Either way, it's still a two visit process.
With single visit crowns, the dentist prepares the tooth normally and then takes a digital impression of your tooth with a special camera. Computer software is used to design a crown for your tooth right there and the crown is then cut out of a block of porcelain on a special milling machine. The dentist then glazes it or polishes it and then cements it on your tooth the same day.
Pros to Single Visit Crowns
It's only a single visit. That means only getting numb once. Only going to the dentist once. I think everyone would agree this is a major positive.
Because they always use digital impressions, the fit of the crown is usually excellent.
You don't have to wear a temporary crown. Temporary crowns tend to come off pretty easily and can be a pain in those couple of weeks.
Cons to Single Visit Crowns
The appointment is quite a bit longer. Instead of an hour and half you're probably looking at 2 1/2 hours. This can vary quite a bit based on the dentist.
The crowns on average don't look as natural as a dental lab fabricated one. Really talented dentists can make beautiful crowns with these systems but on average, they're not nearly as talented as a dental lab that does it all day.
Some of the materials used in these types of crowns tend to be a bit more untested than their lab created brethren. There have been a couple of misfires in the  last several years with materials that were supposed to be good but then started having problems a couple of years out.
If the dentist only has one type of material on hand, oftentimes that's what they'll use every time instead of using the most appropriate material for the case at hand. The first dentist I ever worked with had an early version of one of these systems and he tended to use a subpar material for a lot of teeth which caused a lot of complications.
So at the end of the day, there isn't a simple yes or no answer to whether one visit crowns are a good idea. It really is a big "it depends" depending on your specific situation and the dentist who is doing your crown.
Personally, I'd have no problem getting a crown done on one of these systems, as long as the dentist was using the best material for the situation. If you do go to a dentist who offers this, make sure you ask some basic questions about why they're picking whatever material they're using. If a crown created by a lab is a better option, it's definitely worth it to wear a temporary crown for a couple of weeks in order to have a better long term result.