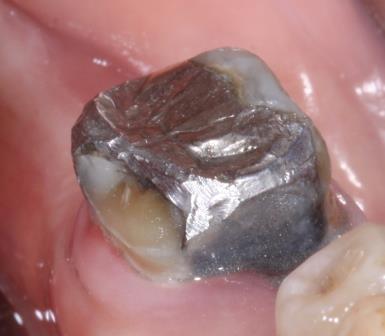 When a tooth is broken or decay is pretty large, the next option after a filling is a crown (or occasionally an onlay which is similar).  The picture to the right is a classic example of a tooth that needs a crown. It has a very large filling which is broken.
So what actually happens when you get a crown?
When a dentist prepares your tooth for a crown he or she removes about a millimeter all the way around the tooth and about a millimeter and a half on top. The crown is made to slide on to the tooth and restore it's natural shape. Because the crown covers the entire tooth it prevents any additional breaks. The crown is cemented on to the tooth and the tooth generally acts and functions like a normal tooth again.
I took some pictures of a larger than life model to give you an idea of how the crown procedure works.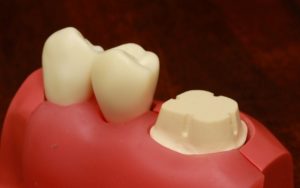 Tooth Prepared for crown
Final crown being put in place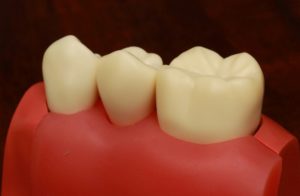 Final crown in place
Crown Materials
There are a lot of different types of materials that crowns are made out of. The following are the most common…
Gold
These crowns aren't actually made entirely out of gold but a combination of gold and other metals. Gold itself is too soft so other metals are added to improve it's strength. Gold crowns are especially useful on your very back molars where there is little room to prepare the tooth. Gold can be made thinner than any other material for a crown. The only downside to a gold crown is what it looks like which is another reason it is normally only used for back teeth.
Porcelain Fused to Metal (PFM)
PFM crowns were the gold standard in crowns for many many years. They are made so that the inside of the crown is made of metal and the outside is covered with porcelain. They are very durable but occasionally the porcelain will break off of the metal. They look very natural except in some cases where the metal shows through. I try to avoid these types of crowns on front teeth for that reason.
Porcelain Fused to Zirconia (PFZ)
These are mostly used for bridges on front teeth to provide good strength but also good esthetics.
Emax (lithium disilicate)
This is a relatively new material. It is made entirely out of porcelain and is very strong. It also can be made to look very natural. One of it's biggest advantages is that it can be chemically bonded to your tooth which makes it very unlikely to come off.
Zirconia
This last type of crown is the strongest type of crown that is white. Zirconia can be pounded with a hammer and not break. It doesn't look as natural as Emax crowns and is mostly used on back teeth.
Can A Tooth That Needs A Crown Be Filled Instead?
Many people ask, isn't there any way you can fill my tooth instead? The answer, as with many other things in dentistry, is that teeth that need crowns can be filled but it really isn't a great idea. If your dentist recommended a crown, it is very likely that the tooth will break at some point in the future without one. Sometimes this break can be repairable and sometimes the tooth will break catastrophically and you end up having to have it extracted.
Bridges
Bridges are similar to crowns but used for a different purpose. Bridges are used to replace a missing tooth by connecting the teeth on either side of the space with teeth that are prepared for crowns. Bridges used to be a very popular option for replacing teeth but with the success of implants they've become the back-up option if an implant won't work. One of the biggest problems with bridges is that you have to cut down the teeth on both side of the space, even if there is nothing wrong with them. It is basically a three tooth solution to a one tooth problem. Most bridges on back teeth are PFM or Zirconia while bridges on front teeth are oftentimes PFZ or emax.
Missing tooth in between two other teeth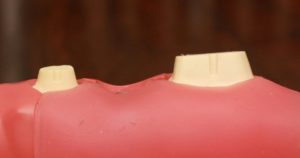 Teeth prepared for crowns
Bridge (all connected) placed over both teeth to replace missing tooth
Final bridge in place
There are several unique challenges with bridges. Food tends to get stuck underneath it and you can't normally floss around it. The easiest way to keep it clean is with a Waterpik. Other options include floss threaders, superfloss, or proxabrushes to clean under the bridge. See our section on floss reviews for more information.