Article Updated May 17th, 2017
Invisalign is always innovating. New materials, new software algorithms, and support for many different digital impression systems are just a couple of the many changes they've made over the last couple of years.
None of those changes were nearly as exciting to me as a dentist (and to many of my patients) as when they announced in late 2016 that their aligners could be changed every week instead of every two weeks. 
Yep, you read that right. Your treatment time can be halved. No other changes necessary. Just change the trays every week.
So how did this happen?
Most people who've gone through Invisalign are familiar with the standard rules… Wear your trays 20-22 hours a day and change to the next set every two weeks. In late 2016 Invisalign changed up those rules. They announced that after extensive testing they'd found that trays could be changed every week instead of every two. Individual dentists and orthodontists had been experimenting with this for a couple of years with great results but Invisalign didn't want to put their rubber stamp on it until they were sure that it was safe and effective.  After collecting a lot of data, they found that it was in fact just as effective as the two week change period.
This change has been a result of the Invisalign innovation in materials and software that we talked about earlier. The aligners are made of a proprietary material that creates gentle but consistent force on the teeth. The attachments that are used on teeth are constantly being evaluated to make sure they are creating the most effective force on teeth. The software is continually getting better at predicting how teeth will move. This all adds up to extremely predictable tooth movement and in a shorter time than before.
The Most Important Thing To Remember!
Changing once a week only works if you are extremely compliant with wearing your aligners. That means that you wear them for 22 hours a day, only taking them out to eat and brush. If you don't wear your aligners as often as you should, you'll have to stay on the two week schedule. Now that is some motivation to wear them consistently!
There are also a couple of products that I highly recommend using (especially if you're doing 1 week trays changes) that will help make Invisalign treatment easier and more effective for you…
Tip #1: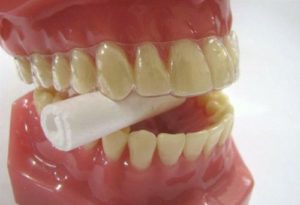 Chewies look like a rolled up piece of gauze or cotton but are actually made of a sponge like plastic material. Many dentists and orthodontists recommend them during Invisalign treatment. When you put your trays in you'll want to chew on them for 5-10 minutes. Invisalign recommends that you do this several times a day and especially before bed.
What this does is pushes the trays up against your teeth more tightly. The closer the fit on your teeth, the faster and more effectively they will move. This is especially important when you first change trays. You can't get that same pressure using just your hands to pop them in place.
If you're going to do 1 week tray changes, I highly recommend using chewies. 
You can purchase chewies relatively inexpensively on Amazon. It doesn't really matter what brand you get, as long as you get as long as they are literally "chewy". Here is a link to the brand that I usually recommend… Orthoband Chewies.
You'll want to throw away the chewy once it is all smashed up and not as spongy. There are re-usable until then (although you may want to clean them occasionally so they don't get super dirty!).
Tip #2: 
Getting the Trays Off
Changing the trays once a week means that your trays will be tighter on your teeth much more of the time. For some people this isn't a big problem and they don't have any issues getting their trays on and off with their fingers. Most people can hook a fingernail around the backside of the tray and pop it off. For other people, especially those who have severely tilted teeth or a lot of "buttons" on their teeth, this can be really challenging! I've known some patients who would leave them on for two full days until their teeth moved enough to loosen them.
If you're one of these people, there are some products out there that can help. None of them is perfect, but it is definitely better than not being able to get your trays off!
What I recommend is a Metal crotchet hook. This is the cheapest and easiest solution for most people. You'll hook the tip up and around the edge of your tray and pull down to pop it off on one side. Once you get one part off, the rest comes off pretty easy.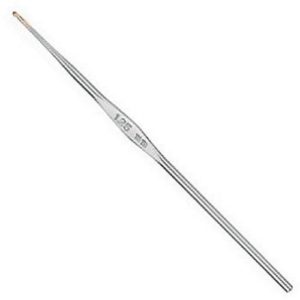 There are some other products made specifically for getting the trays off but I've found that the metal crotchet hooks work better, are cheaper, and don't break. The other products are made of plastic and tend to be a bit bulkier and can't get in between the teeth and tray as well.
So what's next for Invisalign?
I wouldn't anticipate them being able to speed up tooth movement too much more with their aligners alone (there are other options being explored for that) but I do see them continuing to make technology changes that allow Invisalign to treat more and more types of cases. As it stands now, the vast majority of cases can be treated successfully with Invisalign. Will Invisalign ever replace traditional braces completely? I really doubt it, mostly because some people need braces that are fixed in place and no compliance with wearing them is required (Here's looking at you teenagers!). I do see it becoming a viable alternative for just about anyone who wants it treatment with Invisalign. I think your dentist saying "You're not a good candidate for Invisalign" will become a thing of the past.
So now you know. If your dentist or orthodontist tells you that you can change your trays every week, it is actually recommended that you do so by Invisalign. If your dentist or orthodontist is still having you change your trays every two weeks ask them to look up the updated recommendations from Invisalign. They may not have heard about the change quite yet. You'll be glad you did and they'll probably thank you too!