Reviews:
We're going to get right to the good stuff here in case you just want to know what is the best overall sports mouth guard…
Shock Doctor Gel Max (My Overall #1 Pick For Over the Counter Products)
 This mouth guard surprised me quite a bit (in a good way). The Shock Doctor Gel Max design is their basic mouthguard product. This mouthguard will provide some of the best protection of any of the boil and bite mouthguards. It also has a small piece that goes slightly over the front bottom teeth providing some level of protection there as well.
Design:  It is a very solid design with an outer hard layer and an inner soft layer. The mouthguard itself extends up over your teeth pretty far providing good protection. Most other "basic" boil and bite mouthguards are only a single thin layer of material that won't provide good protection from contact. The multi-layer design allows the hard outer layer to protect from hard contact while still cushioning your teeth and other oral tissues from any blow.
Tether: It does have a removable tether.
Speech: Talking was slightly more challenging than with the Nano 3D or single layer mouth guards but I could still be understood while spelling "MISSISSIPPI" out loud.
Ease of Fitting: Fitting was easy (boiling water for 90 seconds) and after molding it stayed in place really solidly.
Pictures of completed mouth guard…
Overall if you are playing a light to medium contact sport and want a boil and bite mouthguard that provides a good combination of protection, good fit, ability to talk, and affordability, the Gel Max is your best option.
For more information on some of the other mouthguards I've tested and reviewed including a couple of specialty types such as for braces read on…
There are three main types of mouth guards you'll find.
Stock Mouth Guards:
Stock mouth guards are mouth guards that can basically be put in place with no to minimal fitting and adjustment. They generally don't fit well and are pretty uncomfortable. They only thing they've got going for them is that you really don't have to put any effort into making them. The only situation in which I recommend stock mouth guards are when you have braces as you need to have room for movement of the teeth during the orthodontic process.
This is the Shock Doctor double braces mouth guard. While I've got it under the stock mouth guard section it is actually somewhat customizable. What I like about this one is that it fits around your braces and covers both your top and bottom teeth. A lot of people will tell you that you only need one mouthguard on the top because those teeth stick out further. I can tell you from experience as a dentist that plenty of athletes injure their bottom teeth even with a top mouth guard in. When you are in braces you have to be especially careful because any blow to the face can cause your braces to cut the inside of your mouth. You will definitely have trouble speaking with this in place and you will have to breathe through more through your nose as you generally need to keep your mouth closed with this in place. It does have breathing channels but nose breathing works out better. Notice on the photos below the area circled in red. This is the part you can customize to the back side of your teeth (where the brackets aren't at). This gives it a bit more retention than a typical stock mouthguard for braces.
If you would prefer a mouthguard that isn't double sided they also make a single sided version. You can just wear this on top or buy two and wear one on the top and bottom. Wearing two at once would definitely be challenging in terms of total bulk in your mouth but would allow you to breathe through your mouth.
Boil and Bite Mouth Guards:
These are exactly like they sound. You place them in hot water for a set amount of time and then mold them around your teeth. Some only go over the top or bottom teeth and some cover all your teeth. These mouth guards are always bigger and bulkier than custom made ones, but some can fit pretty well and provide decent protection. With some home made customizing you can make these work pretty well. There are several options that can work depending on what you need it for.
The first is made by Under Armour. For LIGHT contact sports it is a no frills, relatively low cost option. I DO NOT recommend it for heavy contact sports. Fitting is easy. You microwave it in a wet paper towel for 45 seconds and then mold it to your teeth. It extends up high enough to provide protection to the teeth and gums. It stays in place without having to bite on it but isn't quite as stable as some of the other options. You can see in the pictures below that it doesn't mold to the teeth as well as some of the other options. That said, it stayed in place well enough for me. My biggest concern with this one is that the material isn't terribly thick and wouldn't provide great protection for any heavy collisions or blows to the mouth. It also doesn't have a tether in case you need one for your sport. This is by far the easiest mouth guard to talk in.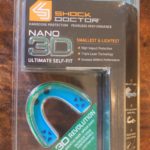 Another option for light contact sports is the Shock Doctor Nano 3D. It is light and slim but I found this one the most difficult to mold correctly and get a good fit. You have to boil water and place it in the hot water for 40 seconds before fitting. It also has breathing channels to allow more air in. Talking with this one is more difficult than the Under Armour mouth guard but still very doable. The biggest advantage of this mouthguard is that it is made of several different layers of materials. There is an outer layer and an inner layer that molds to your teeth. This allows the mouthguard to maintain a consistently thick layer of material which is one of the most important factors in providing protection. It does have a removable tether. My biggest concern with this design is that it doesn't extend up very far, just barely covering my teeth (which are about average size).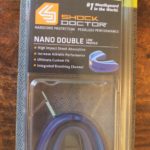 The exception to this is for people who play heavy contact sports with a high risk of collision or facial injury (such as boxing and MMA). If you're one of these people I recommend the Shock Doctor Nano Double. This will cover both your top and bottom teeth at once. Fitting again was very easy (boiling water for 60 seconds) and it stayed in place the best of all the products I've tried. It is comfortable, extends everywhere it needs to and has the double layer that is important for protection. It does have a removable tether.The only aspect of this mouthguard that is challenging is that you literally can't talk with it in place. I attempted to say "Mississippi" with all the different mouth guards in place. With the Under Armour one I slurred just slightly, with the Nano 3D and Gel Max I slurred moderately, and with the Nano Double it came out something like, "mrhghgh hhieirr pii".
Still confused? Here is a photo of them all lined up to compare their profiles.
Custom Made Mouth Guards: (Best Option If Price and Time Isn't An Issue)
With custom mouth guards you get the absolute best fit of any of the options. They also end up being slimmer and lighter. The downside is that they are always the most expensive option.
Your dentist can make you a custom mouth guard. These work great and can be very customizable but end up being the most expensive by far of any option.
Another option for a custom mouth guard is an online lab that sells you a kit where you can take your own impressions, send them off in the mail, and they will make a custom mouth guard for you. These are also relatively expensive compared to the over the counter options but will be less expensive than the ones made by your dentist. The link below will take you to our recommended direct dental lab. Their prices for a custom mouth guard range from $140 to $160.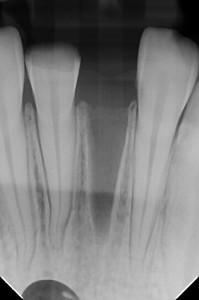 If you're still not convinced you need a mouthguard, take a look at this story of one of my patients.
He is a nice young guy who enjoys playing basketball. He was at practice and got elbowed in the mouth. One tooth broke in half and another was knocked out entirely. Unfortunately, sports accidents like this happen all the time! In his case, if he had been wearing a mouth guard to protect his teeth, he'd likely have gotten a busted lip as the worst of the damage. Instead, he will end up with a root canal, a crown, and an implant to replace his missing tooth. Total cost – $5000. It could have been prevented with a relatively inexpensive mouth guard.
Please don't make his mistake. Wear a mouth guard when you are playing any type of contact sport.
There are a lot of different options for athletic mouth guards out there but sometimes trying to figure out which one to get can be overwhelming! The best kind is the one provides adequate protection for whatever sport you are playing, fits well, and one that is comfortable enough that you will wear it consistently.
How about top teeth or bottom teeth? It depends on the level of contact in your sport. Any sport with a lot of physical contact and you should really consider a mouth guard on both top and bottom. A lot athletes only wear them on the top teeth as these teeth are more likely to be damaged. The lower teeth are attached to your jaw which is able to move more freely when something hits it. This makes the risk of damage to these teeth less likely but as you can see from my patient, not a guarantee. Some mouthguards that fit on the upper teeth do provide some protection for bottom teeth.
Athletic Mouth Guard FAQ
Some mouth guard products make claims that they can increase athletic performance. Is this true or is it just hype?
Their explanation for how it helps is that these mouth guards move your jaw into a better position for breathing. The science however doesn't back up their claims. Wear a mouth guard because it protects your teeth and gums, not because it you think it will make you run faster or jump higher.
Do mouthguards protect from concussions? 
This is another one of those benefits that some products claim. A concussion happens when you have a traumatic blow to your head causing your brain to bump into your skull. This causes some reversible (and likely some non-reversible) damage to your brain. There is some thought that a mouthguard tends to reduce how quickly your head accelerates and thus reduces concussion severity in some cases. So far there isn't a whole lot of evidence to support these claims but it is something that is actively being studied.
Can I / How do I wear a mouth guard with braces? 
Yes, you should definitely wear a mouth guard when you are in braces. The teeth are actually quite a bit looser during orthodontic treatment and as such, much more likely to be displaced if you get hit in the mouth. Plus, imagine what it would feel like to have your lip smashed into those brackets and wires! It doesn't feel good. A custom mouth guard usually isn't an option when in braces because the teeth are moving. Use one of the stock mouth guards that I recommend above or a similar one.
What type of mouth guard should I use for which sport?
Boxing / MMA – I personally like the double mouth guards specifically for boxing. There are two specific benefits. It provides great protection to both your top and bottom teeth. It also forces you to keep your mouth closed which reduces the risk of having your jaw broken. A broken jaw generally means you have to have your jaw wired shut for 6 weeks and can cause significant long term TMJ problems. The big downside is that they are bulky and it's harder to breathe in them. If you can get used to them, they will provide superior protection.
Hockey – There is a huge risk for teeth damage in hockey. There is a reason why most professional hockey players don't get their teeth fixed until they are finished playing. As usual a double mouth guard is going to provide the best protection but will be harder to get used to and breathe / speak in.
Basketball – Most basketball players use a single mouth guard on their top teeth. If you saw the story of my teenage patient at the beginning of the article, you'll realize that this isn't always going to be adequate. The Gel Max provides some slight protection for the lower teeth as well so I'd recommend that mouthguard (or a custom one) for basketball.
Football/Rugby – While football and rugby has a lot of contact, we generally don't see a whole lot of teeth related injuries as with some other sports as a result of helmets. A comfortable upper mouth guard tethered to your helmet is your best option in most cases.
Racquetball – This is a surprisingly dangerous sport. You can get hit in the face by a racquet, run into a wall, or get hit in the face with a racquetball. One of my friends knocked out his front tooth a couple of weeks before his wedding while playing racquetball. At a minimum, I think people should wear an upper mouth guard and ideally wear a double.
What is the best way to fit a boil and bite mouthguard? 
Fitting a boil and bite mouthguard well takes some patience and attention to detail. The first thing you want to do is read the instructions given by the manufacturer (I know, I know… common sense right?). After doing that here are the key things to do…
If they tell you to heat the water to a specific temperature, make sure you heat it to exactly that temperature. Some mouth guards require water that isn't actually boiling. You'll also want to put it in the water for the exact specified time. Too long and it will be too soft, too short and you won't be able to form it well.
When you place it in your mouth, you first want to form it around your teeth with your fingers. Apply some pretty good pressure. Then you'll want to use your tongue to continue to form it especially on your palate (roof of your mouth). At the same time pucker your lips and create some serious suction.. Don't take it out until the material has hardened somewhat. Stick it in ice water to cool it down sufficiently afterwards. You won't get good retention until you've done this step. If you've done it right, it should stay in place securely without any help from you.
Don't be afraid to trim excess material off if it is rubbing, gagging you, or is too long in certain areas. You want this as comfortable as possible so you won't be tempted to take it out all the time.
If all else fails, start over from the beginning. Most boil and bite mouthguards can be reheated multiple times. Even I had to take multiple attempts to get a good fit from a couple of these mouthguards. Look at my pictures of them for a good idea of what you want them to look like when done.
How do I take a good impression for a custom mouth guard? 
So once you've sprung for a custom mouth guard from a mail order service, you're going to need to take a good impression of your teeth. Dentists have a saying about dental impressions… "Garbage In, Garbage Out". Simply enough, this means if you take a terrible impression of your teeth, you're going to get a terribly fitting mouth guard back.
As with boil and bite mouth guards, please make sure you read the instructions they provide with the self impression kit. The instructions are not just "guidelines". You should follow them exactly as directed. Most kits have two different putties that you'll mix together, place in a tray, and form around your teeth. You need to do this in the time frames specified in the directions. If you wait too long to place it on your teeth, it will become too hard and won't mold well. If you don't leave it in place long enough, you can distort the material when it comes out and the mouth guard won't fit correctly. You'll also want to make sure you adapt the material as well as you can around ALL of your teeth. Again, if you don't get all the teeth, it is not going to fit well. Once you take the impression out of your mouth, look at it to make sure there aren't any large bubbles in the material and that it adapted well around all your teeth. If it is a bad impression, get more impression material from lab instead of sending them a crappy impression. For more tips see our page on self impressions.